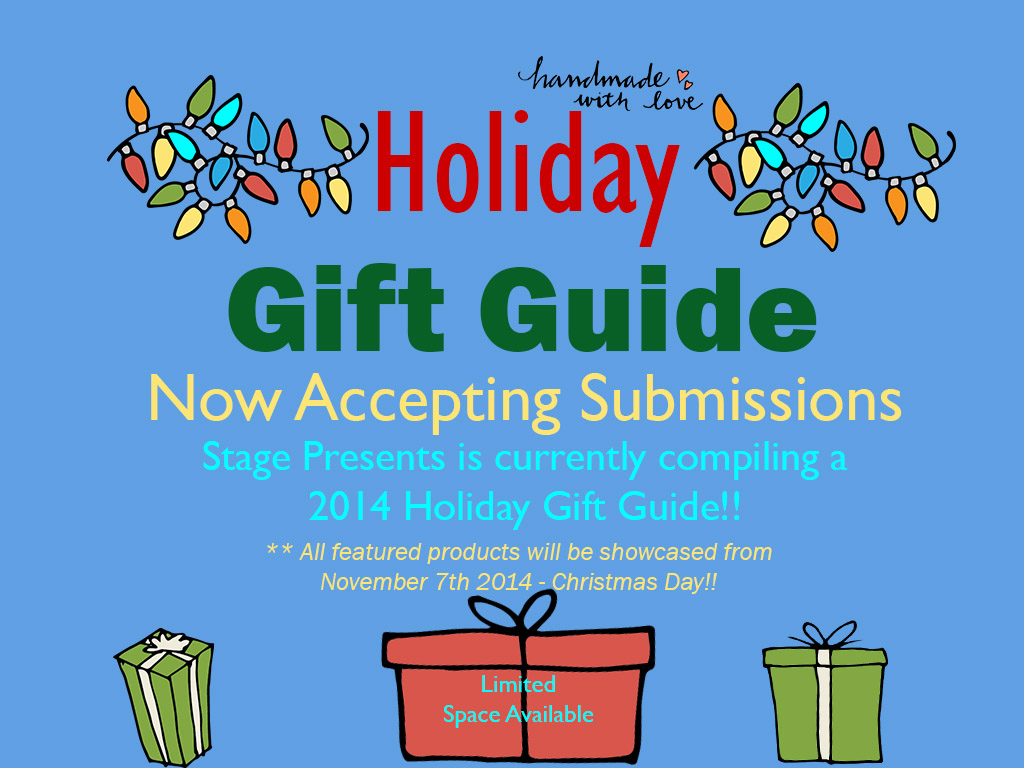 Stage Presents is currently compiling a 2014 "Handmade with Love" Holiday Gift Guide for Seasonal Shoppers.  If you would like to have your product featured on our list please email me at shereethomas@stage-presents.com, with the subject Holiday Gift Guide Submissions.  Each submission should contain your company name, product, product value, and who the product is most suitable for (see Gift Guide Groupings- listed below), as well as any photos that you would like to feature with your submission.  Photo Quality is very important, since we aren't able to view your physical product.  We need to be able to discern the quality from the pictures.
The 2014 gift guide has a minimum product value of $20.00 for inclusion.  The gift guide will be published in early November and be promoted regularly until Christmas Day.  An actual start date will be provided to you once, we have accepted your submissions.  Items that are selected for The Gift Guide will be promoted on Facebook, Instagram, and Twitter!!  You will be required to post the link on your pages as well, as to insure that everyone included gets their products Cross Promoted.  As you know, most Holiday Gift Guides, require you to submit your actual product and or pay to enter.  Well, THIS ONE IS DIFFERENT!!  The purpose of this Holiday Gift Guide is to help fellow businesses promote their quality products during the Holiday Season!!  
Gift Guide Groupings:
For Her
For Him
For Couples
For Infants and Toddlers
For Teens
For The Home
For Pets
For Foodies
For the Fitness Buffs
There will be four selections from each Grouping.  When submitting a product for Children please Indicate the Age Group that your item is geared towards.
** Please note that this is a Family Friendly Gift Guide, so keep that in mind when submitting your products.
Feel Free to Contact me with any questions that you may have.
Best of Luck, and I look forward to working with you!!