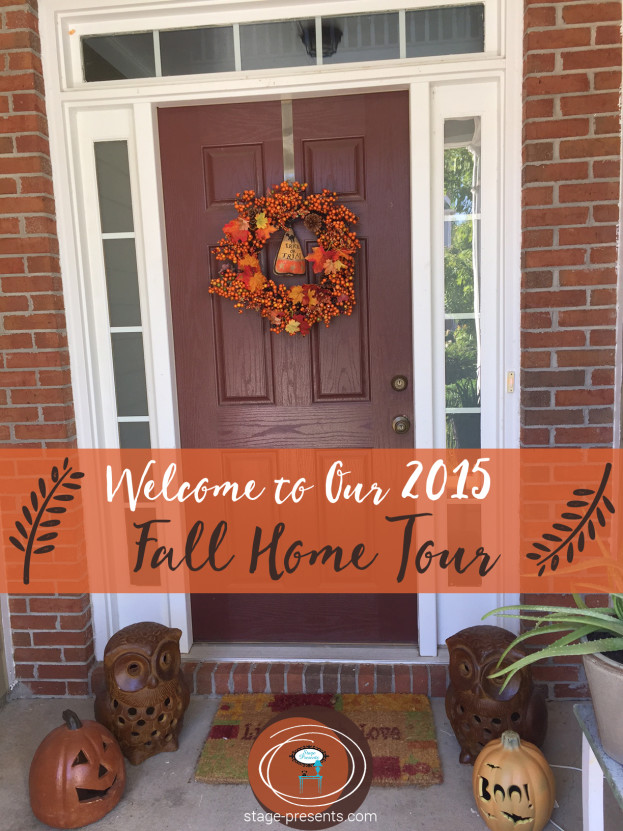 Come on In, and Welcome to Our 2015 Fall  Home Tour. It's no big secret that I love fall.  I enjoy decorating my home for the season almost as much.  The Traditional Fall Color Palette truly speaks to my spirit, each and every year.  It has become a more fulfilling experience now that I have enlisted the help of my dear husband.  This year more than any other, he was an active participant in the vision behind Our Fall Home.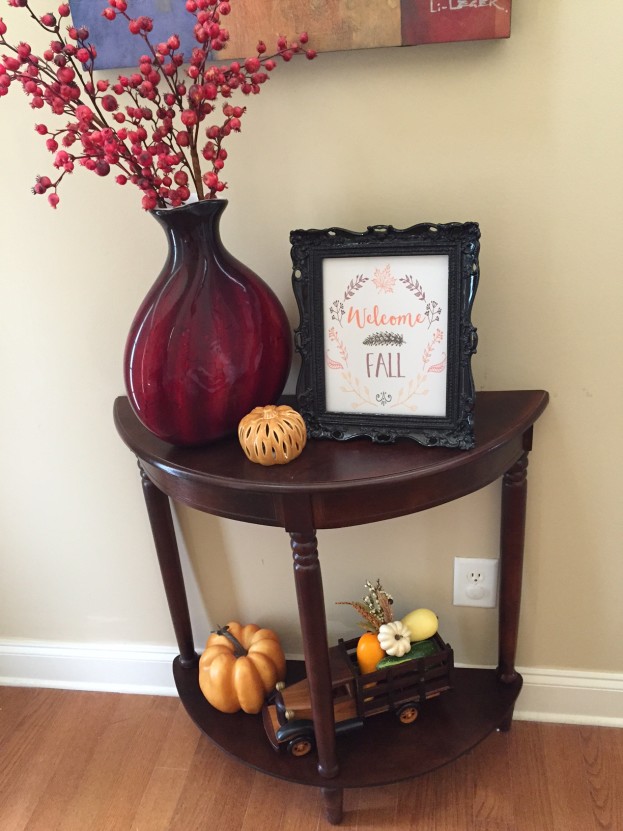 This little table sits in our Front Foyer.  It changes with the seasons.  I kept it very simple, and added One of Our Fall Printables from Our Etsy Store.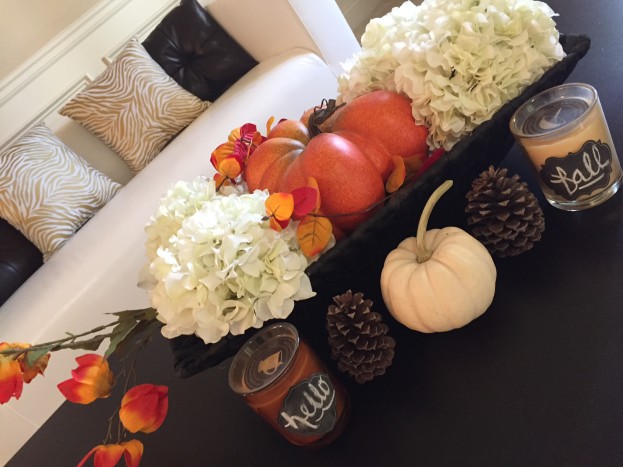 If this isn't your first time viewing one of Our Home Tours, then you know that these White Hydrangeas are always somewhere in sight.  I simply added them to a basket with orange blooms, a few pumpkins and some candles to welcome fall.  This served as the centerpiece for the coffee table in Our Formal Living Room.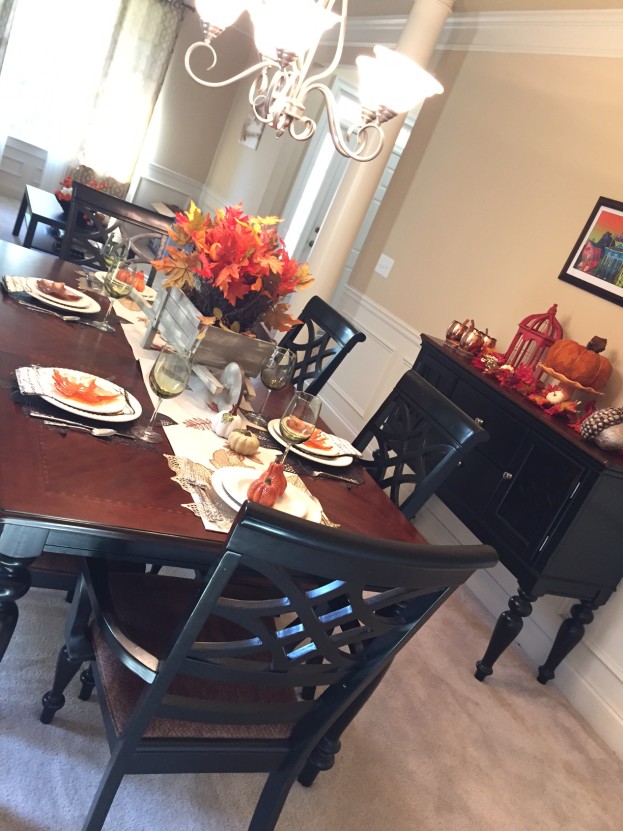 Our Formal Living Room and Dining Room feed into each other, as you can see here.  You know, the "crowning glory" of my decorated home is always my tablescape.  This year I was stumped, I really didn't know what to do and I knew I wanted a change.  So I sent my hubby on a Home Goods Excursion.  He came back with a lot of really Good Stuff.  Thank God for his fresh eyes.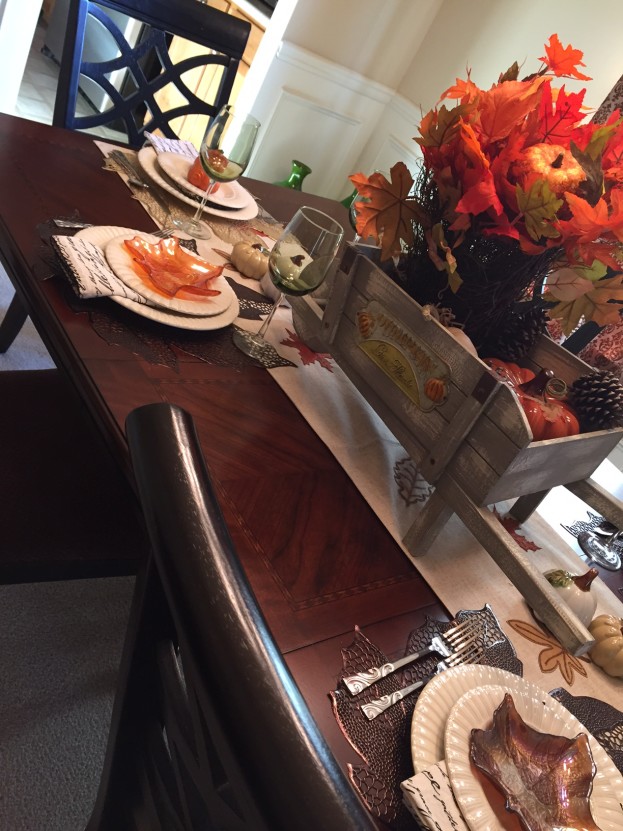 My favorite piece of this year's Tablescape, is the Festive Pumpkin Wheelbarrow.  I was swooning , the minute he pulled it out the bag.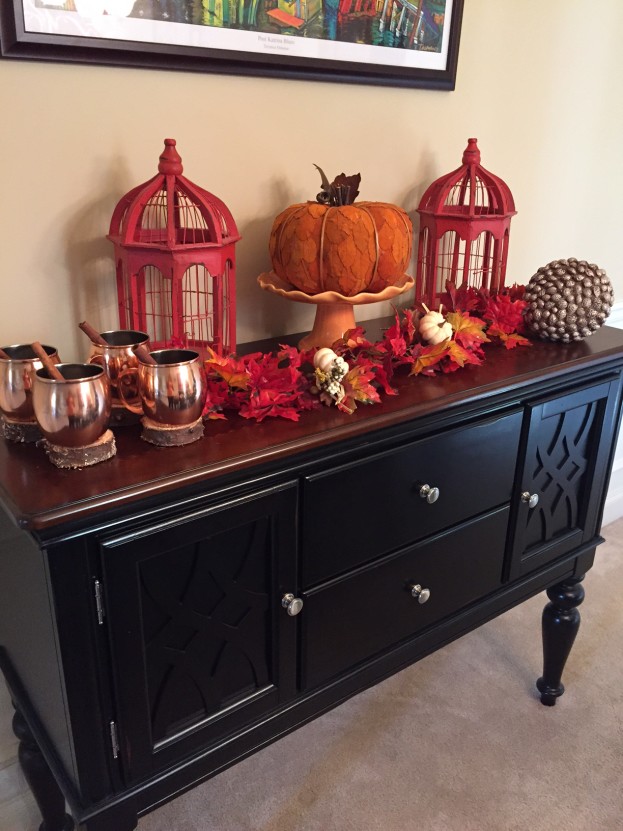 I am always searching for inspiration on decorating my side buffet.  I wanted the buffet to be full and for the decor to vary in height and texture.  I am very rarely pleased with my first or second look.  That was true here as well.  I won't even show you the epic fails.  But, we finally settled on this look, and  This year's Side Buffet is EVERYTHANG!!  Or at least we think so.  We sat the Moscow Copper Mule Mugs(an early Christmas present), on saved slices of last year's Christmas tree.  We planned to make them into coasters, but that is still on the DIY List. Luckily for us it lent to the rustic look and feel that we were going for.  The Orange bird cages have been around for a few years, but still fit in perfectly.  The larger than life Acorn and Fabric Pumpkin were Home Good Finds.  Throw in some Fall Garland and an Orange Cake Plate and the look was complete.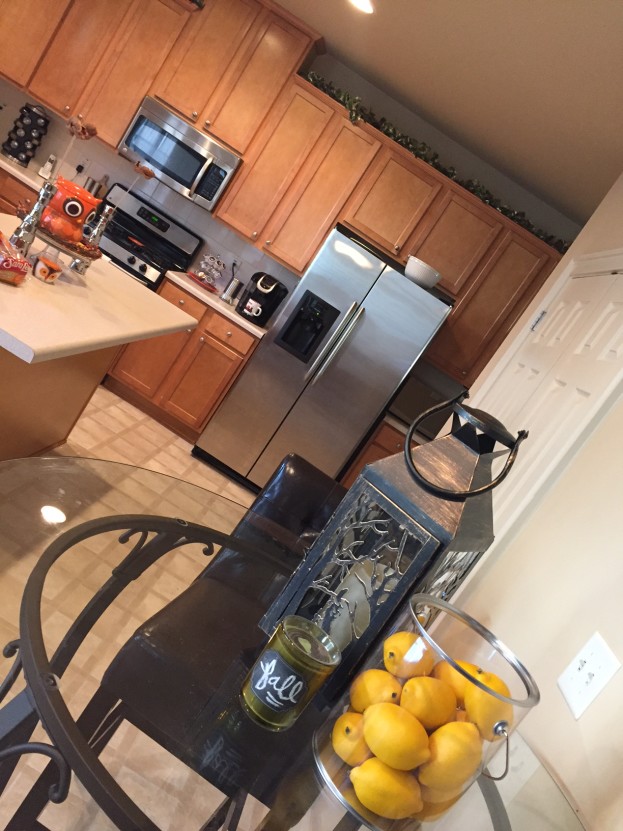 Lastly, we threw some Fall Pieces into the Kitchen Just to Give it that Autumn Feel.  [Enter the Owls.]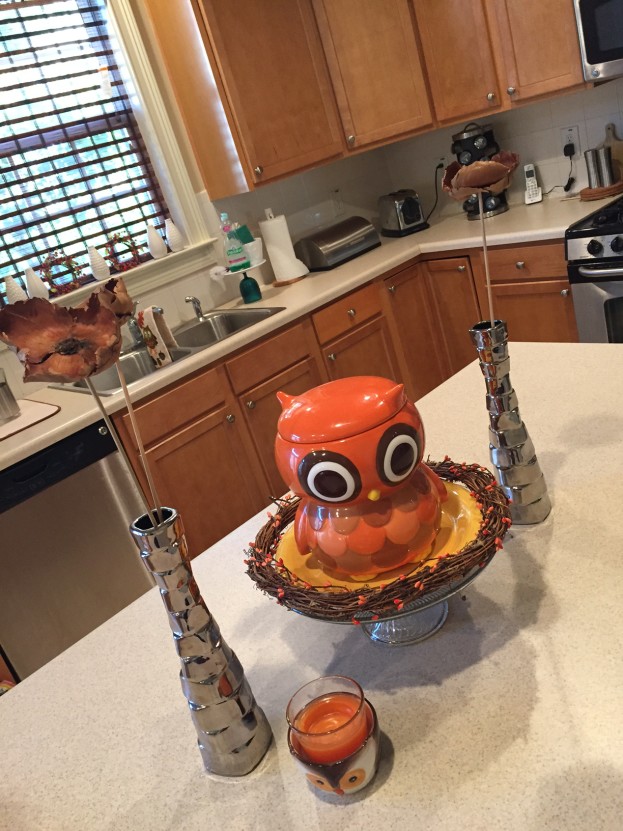 I had hoped to post the Fall Home Tour earlier, but… well… if I must confess, the kitchen is the hardest part of my home to keep "picture perfect".  I am sure you know that…. these pictures are not indicative of every day.
As always, it was great fun inviting you all into Our Home.  Do you decorate for each season?  What was your favorite part of Our Home Tour?