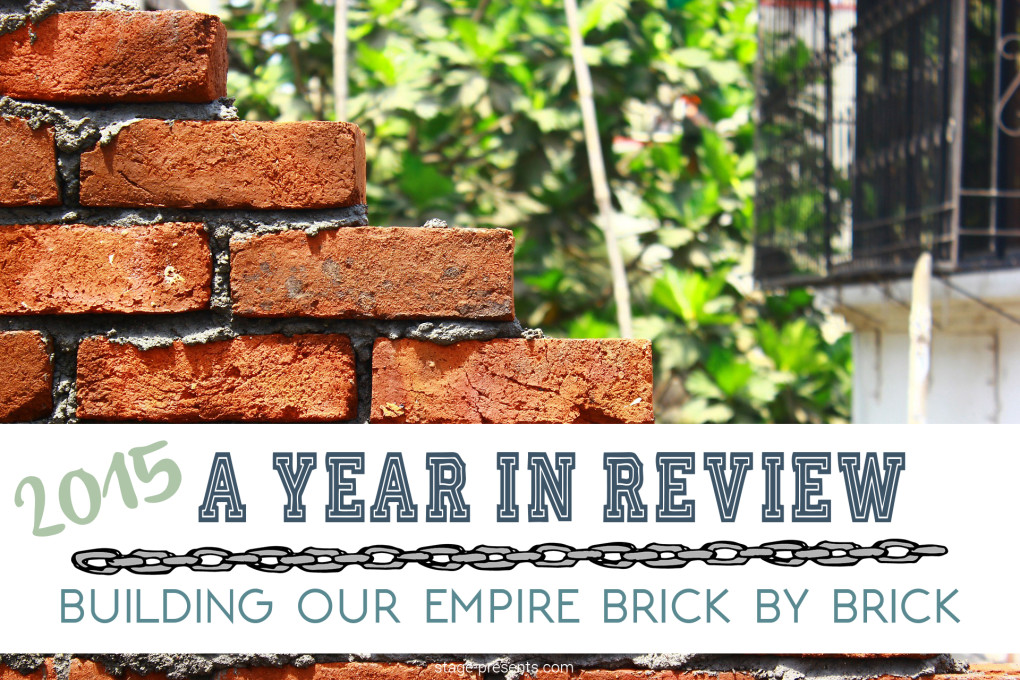 Every body loves an overnight success story, myself included.  It speaks to our fascination with the Rags to Riches Story.  But, I am sure that you know that those stories are few and far between. What you rarely hear about is the route or the journey that is taken in order to get to where you want to be.  Our 2015 Year In Review, is just a small piece of that story, Our story.
My love affair with blogging has always stemmed from the fact, that I stand in awe, at the transparency of bloggers.  The ability to let people into the deepest recesses of your soul, thoughts, and even your home is still mind blowing to me. I have been blogging since the early 2000's, long before it was a trendy thing to do. That being said, moving from personal blogging to a blog that was associated with my brand, was a very different experience for me.  I felt like every word that I wrote, every opinion that I gave or every picture that I posted was now up for interpretation.  That was and still is a scary feeling.  So finding my voice in this particular blog is a continuous work in in progress.  While the opinions that I give are as honest and as true to myself as I can possibly be, I make an effort to be politically correct. (If that makes sense.)
Background Story: [For those of you who only joined us in 2015.] After working for the same company for over a decade, I was laid off.  My youngest daughter was only 2 at the time and had more food allergies than I could count on one hand. and my oldest daughter had challenges of her own.  So I opted to stay home and focus on my family for a while.  While that sounds grand, it didn't feel grand.  It felt like I was drowning.  But, more than anything I was scared.  Out of that fear and  frustration, a dream was born.  We named it Stage Presents.  It was supposed to be a way for me to feel like I was still a financially contributing part of my household.  I would be lying if I told you that either of us expected great things.  We simply had no idea what to expect.  So for the first year (2014), we flew by the seat of our pants.  I read everything that I could on being a small business owner.  Took as many online classes as I could manage and implemented as many changes as I could, on the fly.  And, at the end of the year, we had established a foot hold and made 80 sales and were feeling like maybe we were on to something.  The greatest feeling an entrepreneur can experience is when people see, understand and support your vision, and if that earns you money, even better.
We were determined that 2015 was going to yield an even greater return.  So we started off the year by defining the things that we deemed necessary to keep progressing on this journey.  I won't bore you with the whole list.  But, these were the main points.
Build an Online Community.  Form Valuable Relationships with Other Bloggers and Small Business Owners.  Network and Collaborate.  Invest in the Visions of Others.  ✓
Increase my Blog Readership and Subscriptions and Monetize My Blog ✓
Develop a Formidable Online and Social Media Presence ✓
Increase Both Views and Sales in Our Etsy Store ✓
Maintain Our 5 Star Review Rating and continue to provide excellent Customer Service ✓
And, guess what, we did all of that this year.  Are we any closer to where we want to be?  Absolutely.  Do we feel like this journey is anywhere close to its completion? Nope, not at all.  But, we are committed to the process and invested in our dream.
Here are some of the Highlights from Our Year:  We offered Exclusive Content to our Subscribers and the List Soared to over 100 Monthly Subscribers.  Our Lake Eufaula poster was purchased and featured in an episode of NCIS – New Orleans.  What an amazing way to start out the year!!  We threw our hats into the ring and began to offer Invitations, Save The Dates, and other Stationery for "Brides to Be".  Our Digital Library Card Invitations were a big hit with several authors.  Our Restaurant Meat Cut prints were and continue to be a best seller.  We invited you into our home as we decorated for Easter, Fall and eventually Christmas.  We shared some of our favorite recipes.  Helped you get your little ones ready for Back to School and added Printable Posters to Our Shop. Whew!! That was a mouthful.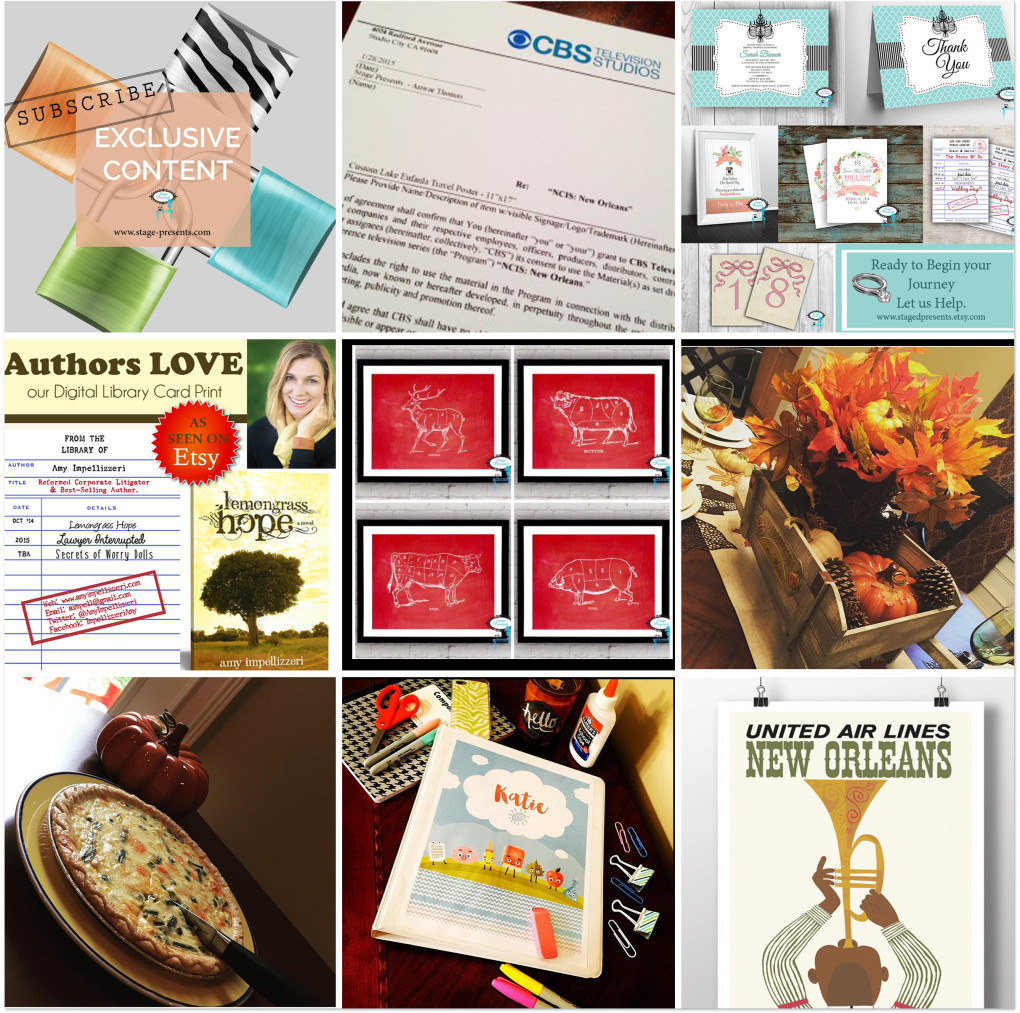 2015 has been an amazing year, both for the business and for the blog and we look forward to what 2016 has to offer.  We are humbled by the support of our readers, our customers, and our community.  We acknowledge that without you we couldn't have come this far.  As we end this year, and venture into the new one keep these words in mind.
"We are at our very best and we are happiest, when we are fully engaged in work we enjoy on the journey towards the goal, we've established for ourselves.  It gives meaning to our time off and comfort to our sleep.     It makes everything else in life so wonderful, so worthwhile."
-Earl Nightingale
Happy New Year and Best Wishes for a Bountiful New Year from your Stage Presents Family!! Adios 2015!!