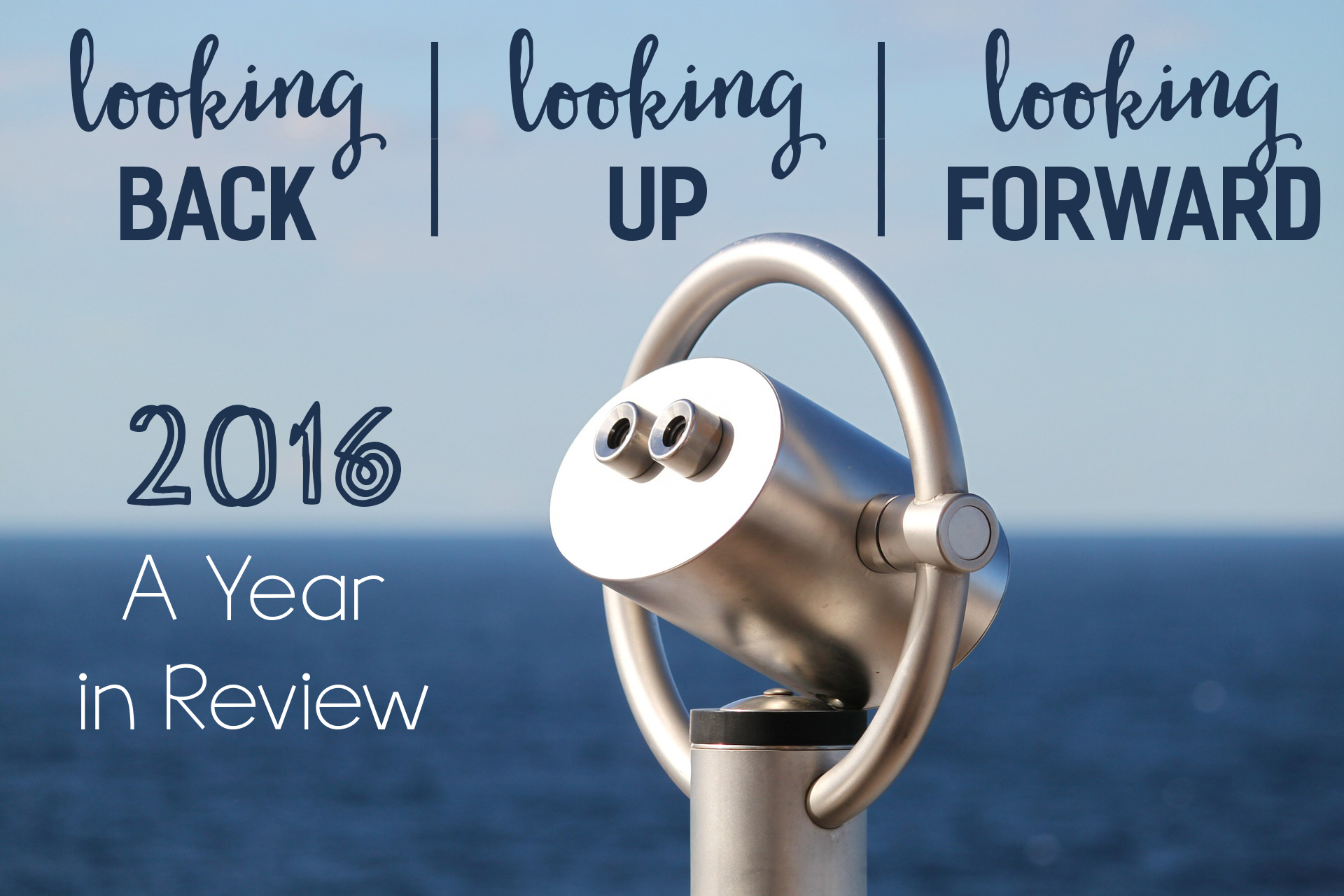 It is the last day of 2016, and I for one am glad to see it go.  2016 has been the most tumultuous year I have experienced in my 40 years.  It has literally been filled with the lowest lows and the highest highs,  a perpetual roller coaster of emotions, blessings and disappointments.
We entered into 2017 full of hope and vision.  And, as seems to be the norm at this stage of my life the days quickly turn into months and the months into years.  This is something that most Moms tend to be cognizant of as you watch your babies speed through their younger years. And, believe it or not with a business it is not much different.  I sit back a little awe struck at times, as I watch it develop in new ways.  The most minute changes can garner the most significant rewards.
On the Business/Blog Side of Things:
We started off the new year by re-branding.  Even though we loved our original logo, we wanted a new logo that we felt represented where we were going as a company. I assume that this can be a fairly easy project for larger companies who hire out this type of work.  But, we decided to do it ourselves, or I should say my hubby did it.  And, since we both have the perfectionist gene getting on the same wave length was a bit harder than we thought.  But, ultimately we were both pleased with the finished product.
TheStagepresentsBlog got its own Instagram Page. Having another account separate from the one we already had for our Etsy Store allowed me to share more of myself, my family and my daily life with all my Stage Presents friends.  It also gave me a chance to connect with other like minded bloggers.
Our Etsy Store hit 400 + Sales and officially passed the 3 year mark.
Our Back to School Binder Covers went viral.
Increased our Social Media presence and Developed relationships with other bloggers
Collaborated with other bloggers to present the Friday Favorites Linky Party.
We had some amazing Guest Bloggers.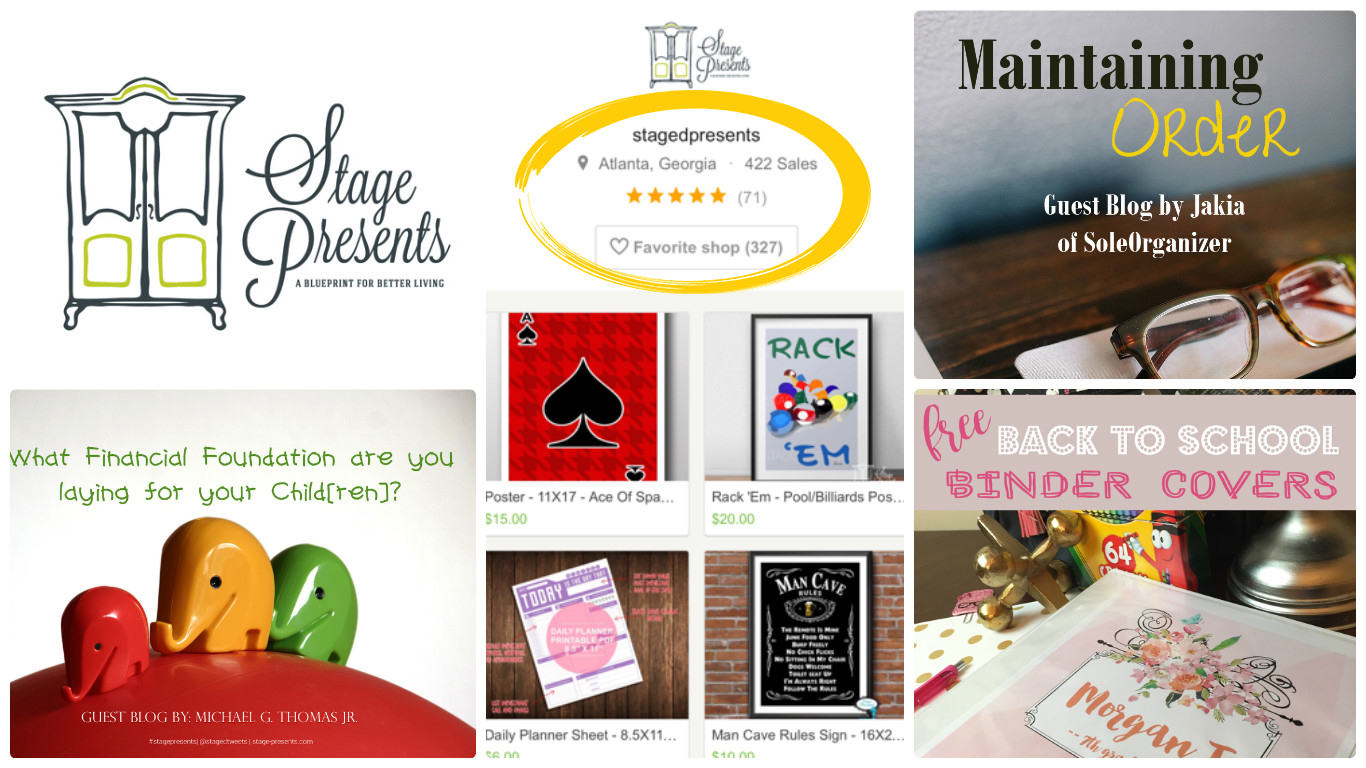 "If you're going to try, go all the way. Otherwise, don't even start. This could mean losing girlfriends, wives, relatives and maybe even your mind. It could mean not eating for three or four days. It could mean freezing on a park bench. It could mean jail. It could mean derision. It could mean mockery–isolation. Isolation is the gift. All the others are a test of your endurance, of how much you really want to do it. And, you'll do it, despite rejection and the worst odds. And it will be better than anything else you can imagine. If you're going to try, go all the way. There is no other feeling like that. You will be alone with the gods, and the nights will flame with fire. You will ride life straight to perfect laughter. It's the only good fight there is."
― Charles Bukowski, Factotum
On the Personal side of Things:
Life dealt more blows than I would like to remember in 2016.  Only months into the New Year, my toddler niece got very sick and passed away.  It is something that I honestly don't know if I will ever truly understand. The only thing worst than experiencing that loss, was watching my baby sister go through it.  As a big sister, you never want to think that there is something that you just can not help your younger sister with or through.  But, I had to accept that this was something that we could only call on God to help and heal.   Then some months later, I had a health scare that consisted of  a spider bite and my blood sugar being way too high, that landed me in the hospital.  Though terrifying, it turned out to be exactly what I needed to get my act together as far as eating what I should eat, instead of what I wanted to eat.  This year, I also started subbing at the School System for longer periods of time.  I got a quick refresher course on just what a balancing  act it was to work full time hours and still juggle being Mommy and Wife, Blogger, Etsy Shop Owner, Cook, Taxi…  The flip side to that was being able to do more of the things we wanted to do as a family with more money coming into the household, and having a little more to invest back into our business.
"It's so much darker when a light goes out than it would have been if it had never shone."
― John Steinbeck, The Winter of Our Discontent
The pain makes us change. The change makes us grow, and finally the growth makes us strong.
FOR WHATEVER REASON, THESE BOOKS HELPED ME OUT THIS YEAR.
Favorite Books:
Why We Can't Wait by Dr. Martin Luther King Jr.
Fervent by Priscilla Shirer
Make it Happen by Lara Casey
2016 has been a year of growth for the business and for the blog and it is with bated breath that I wait to take in all that 2017 has to offer.  We are humbled by the support of our readers, our customers, and our community.  We acknowledge that without you we couldn't have come this far.  As we end this year, and venture into the new one keep these words in mind.
THROUGH ADVERSITY, NOT ONLY ARE WE GIVEN AN OPPORTUNITY TO DISCOVER OUR INNER STRENGTH, WE ARE ALSO GIVEN THE  GIFT OF FORESIGHT SO WE CAN SHINE A LIGHT FOR OTHERS WHO GO THROUGH THE EXPERIENCE AFTER US. — RACHAEL BERMINGHAM