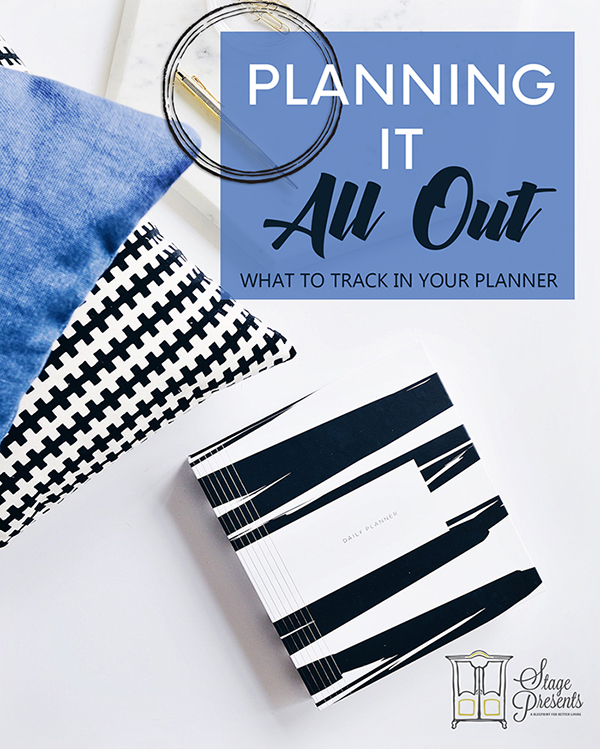 Here's something that you should know about me, absolutely everything in my life is always a work in progress.  I am very seldom satisfied with the way things are.  I realize that can be a bad thing, but in this case I think it's OK.  Being part of the planner community has definitely taken me through stages.  What does that mean?  Well, it means that I probably spent way too much money and energy on stickers, stamps, stencils and other things that I thought would make my planner pretty and keep me more organized.  And it definitely made it lovely, but It did not actually make me more functional, which was the whole point.  Don't get me wrong it was great for Instagram and Facebook posts, and I loved looking at it.  But, it was not helping me to actually achieve my goals or complete my tasks in a timely manner. In addition to that I went through several types of planners and styles, before I finally settled on one that worked for me.  That doesn't mean that I don't still get enticed by the planner section in Staples or Office Depot, but ultimately I think that I have found a system that works for me.
My planner has become my life line, as much as I wouldn't exactly want to admit that at 41 I need little reminders, I do.  I guess I can't still claim Mommy brain, since my oldest is 7 years old.  But, that is kinda what it feels like, when you have to keep track of what everyone has to do and where everyone has to be.  After lots of trial and error, these are the things that I track in my planner that keep me on top of things.
Health-Wise – I track my:
Water Intake
Exercise
Steps
Hours Slept
Headaches
Weight Loss
Weight Gain
Prescriptions Filled
Vitamins
Family-Wise – I track:
Dr's Appointments
Salon Appointments
Nail Salon Appointments
School Field Trips
School Projects
Quizzes/Tests
Family Trips and Birthdays
Family Wish Lists (Things the kids and hubby have been asking for)
Household-Wise – I track:
Laundry Detergent/Fabric Softener/Bleach Purchases
Cleaning Schedule
Spring/Summer/Winter Cleaning
Decorating by the Season
Household Wish List (Things we want to purchase for the house)
Just Because I am ME – I track:
Prayer Lists
What I'm Reading
What I'm Wearing
Moods
"A DREAM WRITTEN DOWN WITH A DATE BECOMES A GOAL.  A GOAL BROKEN DOWN INTO STEPS, BECOMES A PLAN.  A PLAN BACKEd bY ACTION MAKES YOUR DREAMS COME TRUE."
What is something you absolutely have to keep track in your planner or otherwise to be effective?  I'd love to hear all about it in the comments below.