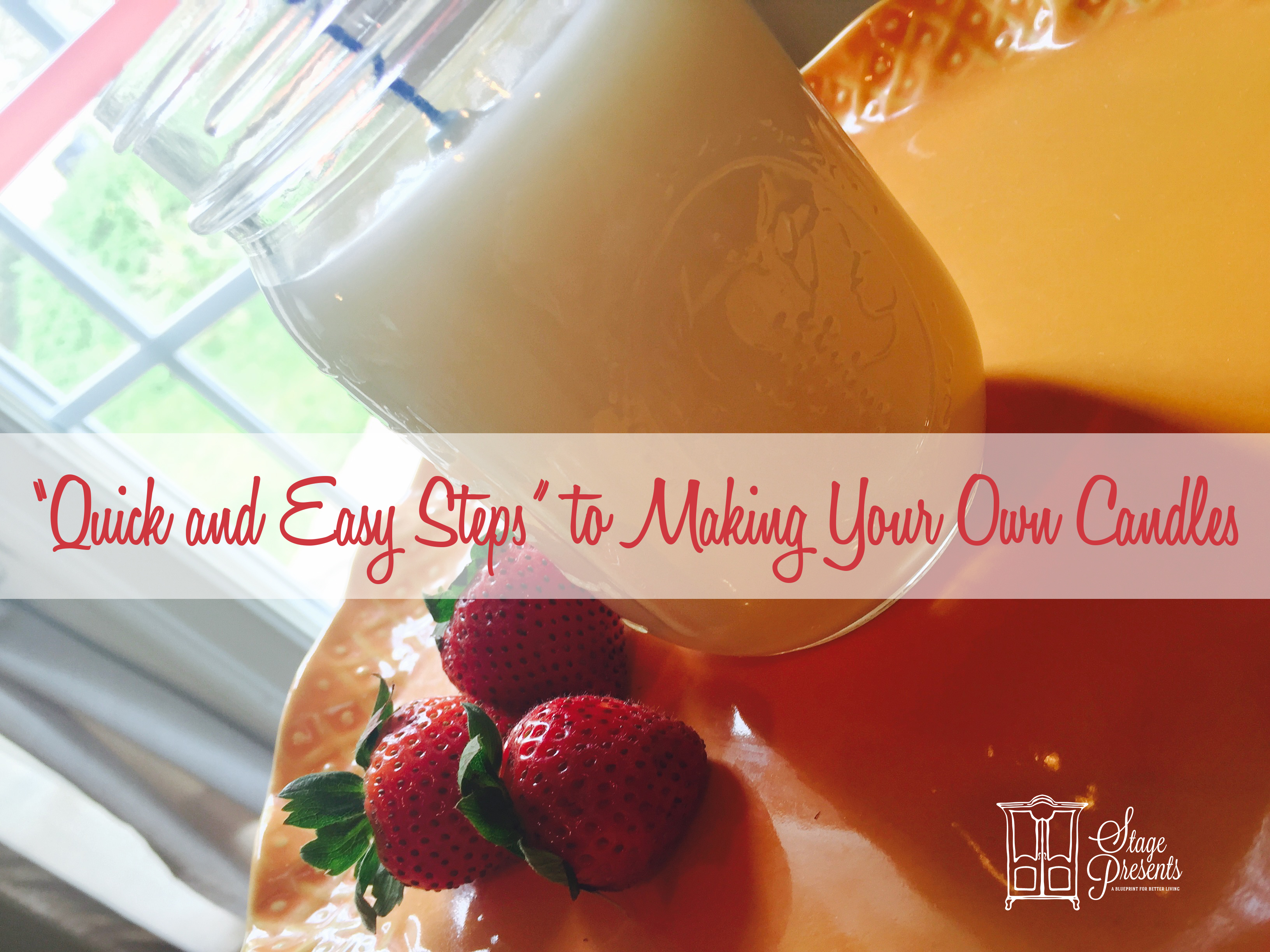 I enjoy DIY projects.  But, I should explain I do not enjoy projects that have too many moving parts or require too much work on my part.  So, if you ever see me share a project or a recipe, you can be sure of two things.  It will be quick and it will be easy. Today's DIY is no different.  I will confess this isn't the first time that I have made my own candles.  But, it literally was back in 2008.  And, back then I was making them as gifts, so I rarely enjoyed them myself.
Fast forward to this summer, as I was making my summer bucket list.  I tried to come up with projects that I thought the kids would be excited to be a part of.  Now, I know you are probably thinking kids and hot wax, but I promise I did that part all myself.  So, let's get started.
Moving Parts aka Things You Need.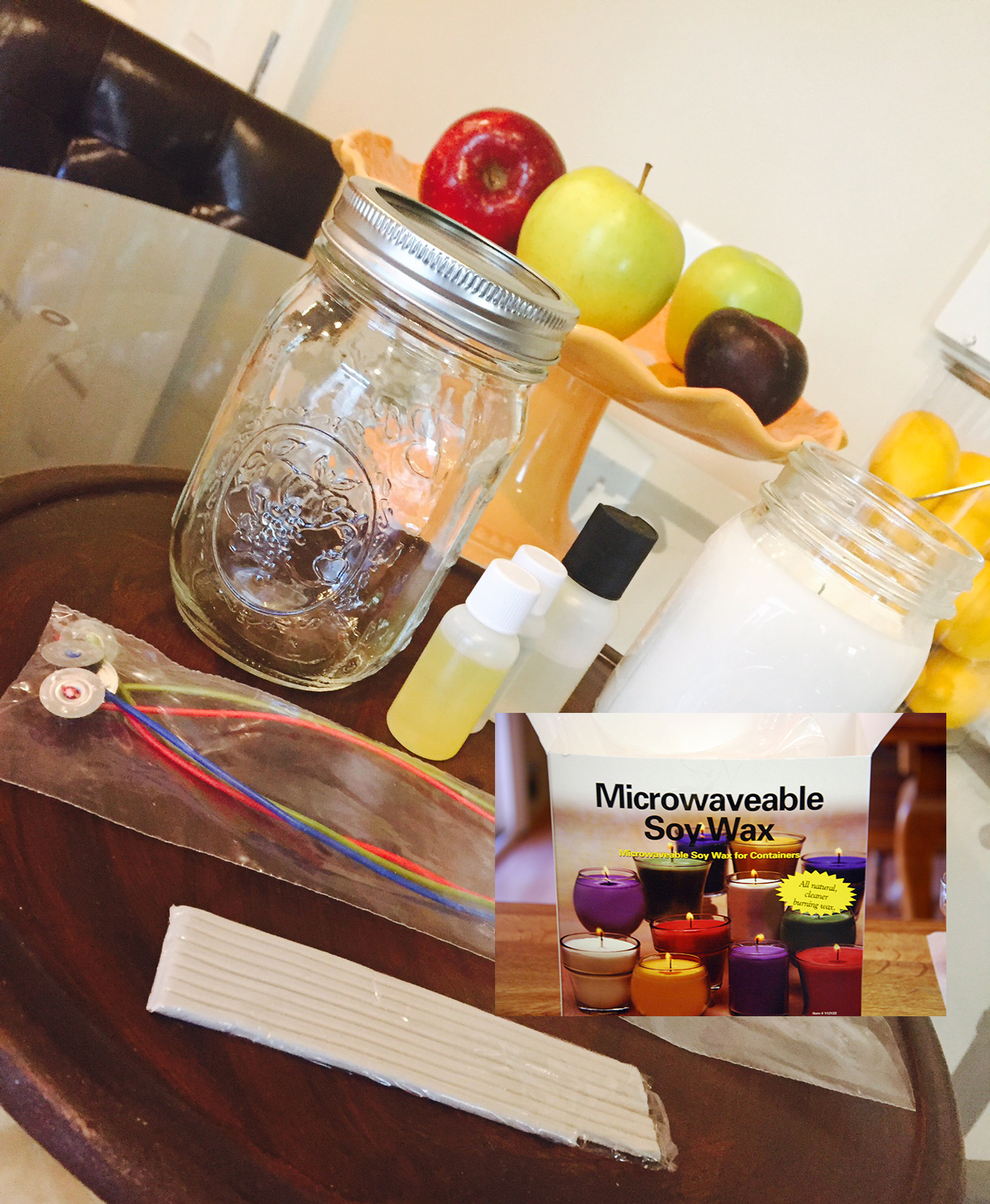 Glassware of Some Type
Microwaveable Soy Wax
Candle Wicks with Metal Base
Plastic Mold Sealer (to secure Metal Base)
Straw or Pencil
Fragrance
About 10-15 minutes
I used Mason Jars, because… well I love Mason Jars.  The Microwaveable Soy Wax was Quick and Easy.  The directions on the packaging shown in the first picture.  Indicates that it will take up to a minute to melt.  It took me about 3 minutes to get it all the melted.  I have a Microwave that I don't use to cook in so I used that for this project.  I am mentioning this because, of course you probably don't want tomorrow's left overs smelling like wax.  But I am sure if you give it a good wipe down right after you would be fine.  Candle Wicks, this is one of those things where you will have choices galore.  This go around I used the Soy Wicks with the tabs.  But, if I was to do it again, I would do the braided wicks, because I like the way that they burn better.  And, I would probably go for the simple white wicks just for a cleaner look.  I used a small piece of the Plastic Mold Sealers to secure the Metal Base of the Wicks.  This is not something you have to do but, I feel better knowing that when I start pouring the wick will stay in place.  My favorite part and the reason I made the candles in the first place is the fragrance.  But, I am going to warn you fragrance is NOT CHEAP.  And, if you want a noticeable scent.  You may want to pour between 3-4 bottles of 1 oz  Liquid Candle Fragrances into the melted wax and stir well, for even distribution.
OK, so that explains all the things you will need EXCEPT for the Pencil or the Straw.  Now the first time I did this, I bought longer wicks, so I simply attached the Metal Base and tied the remaining wick around a pencil centered on top of the jar to keep it centered.  This time the wicks I purchased were shorter was shorter, so hubby "jimmy- rigged" it.  My Mommy would always tell me necessity is the Mother of Invention, and she would be right.   He came up with the idea to puncture a hole in a straw and thread the wick through it and then center it on top of the jar.  I was skeptical, but he was right.. hes good with these things.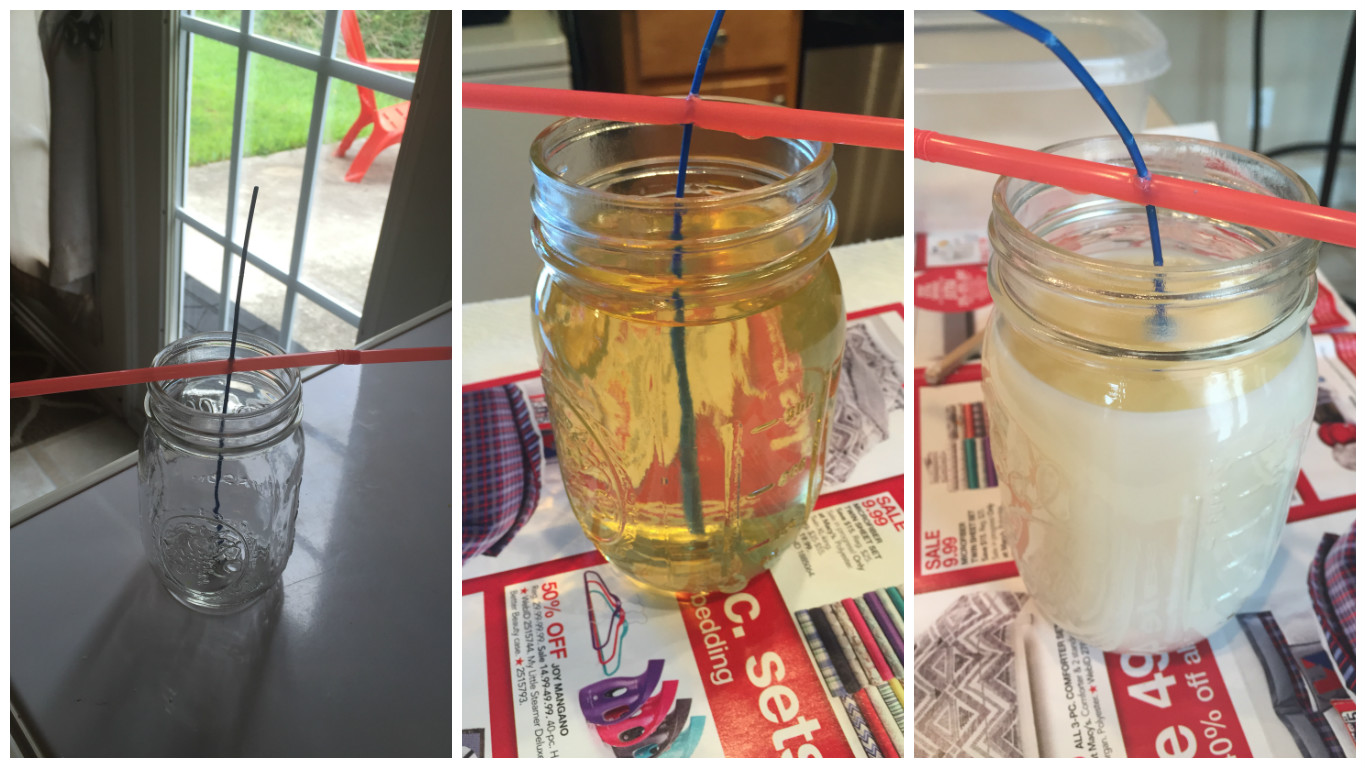 So there you have it, go forth…and make some great smelling candles.  Not to mention how impressed all your friends and family will be.  I find that these candles are always a most welcome Hostess Gift.  With the holidays coming up, it's something to consider.  Slap a Personalized Sticker on here or dress it up with a ribbon or two.  Don't say I never told you anything (smile).
Enjoy the rest of your weekend!!