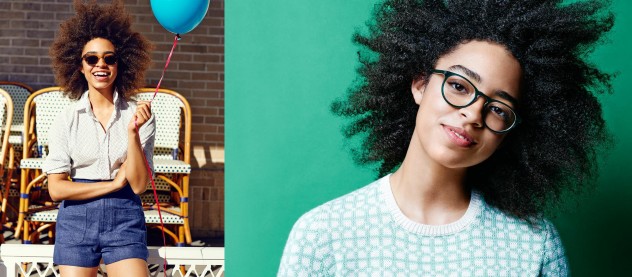 As Summer approaches the number of Selfies to Flood Social Media increase in droves.  Let's face it when it comes to Feeling Good, there is nothing quiet like the rays of the hot sun on your body, a cool drink and the perfect shades.
Nothings says summer like Warby Parker's New Summer Collection!! The shapes and shades in this collection will have you both camera and adventure ready for whatever the long, hot summer days may bring. Glasses and sunglasses feature frame hues that are inspired by all the things we love about the  season – the beach, the ocean, lemonade, root beer, the moonlight and more.
Here's a look at of some of the new optical glasses and sunglasses in Warby Parker's new Summer Collection.  The Winston in Ginger Lemonade is my absolute favorite!!
Winston – in Ginger Lemonade.
Jennings
– in
Striped Beach.
Stockton
in
Sea Green Crystal
In addition to the wide variety that Warby Parker Affords you, they also give you the option to Try On up to 5 Pairs of Glasses from the Comfort of Home, before deciding on the pair that you want to make your own.  Try On Warby Parker's New Summer 2015 Collection
Pick out your favorite Summer 2015 shades at WarbyParker.com!
The Amazing Selection and Jaw Dropping prices not enough for you?  Still need convincing??  For Each Pair of Glasses Purchased Warby Parker gives a monthly donation to Non Profit Partners.  Who in turn, train men and women in developing countries to give basic eye exams and sell glasses to their communities at affordable prices.  These men and women work hard to spread awareness and make eye care available to their communities.
**This post contains affiliate links and I will be compensated if you make a purchase after clicking on my links.