Do you ever tire of eating and cooking the same thing week after week? This is one my biggest challenge in the kitchen. So, I have been reaching outside the box to try new recipes that I think the family will enjoy. Since today was Cinco de Mayo, I thought I would try out some traditional Mexican Cuisine.  I got the recipe from Betty Crocker, so I am not sure just how traditional it is.  But, last night I tried out Betty Crocker's Cheesy Chicken Enchilada Recipe found here.  In addition to this recipe being super easy and delicious, it was very inexpensive to make.  It got both the Kids and the Hubby Seal of Approval, so its definitely going on my Tried and True List.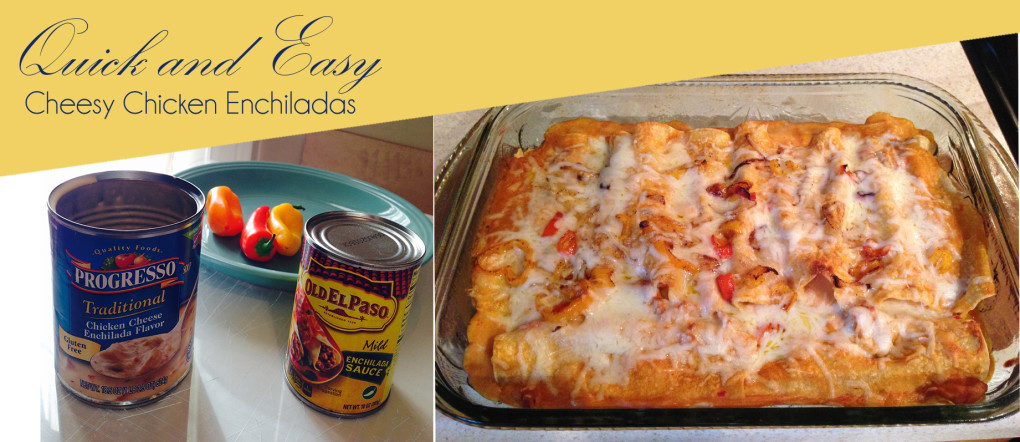 My Notes on this Recipe: For a family of four or more, consider doubling this recipe.  Also, for my own personal preference I added sauteed onions and peppers to the mix, as well as to the top as garnishment.  Also depending on how Spicy you like it.  You can choose to go with a different enchilada sauce, I chose the Mild because I have small children at home.
And, then just because you can't do Cinco de Mayo without Margaritas, we also tried out this recipe for a Strawberry Margarita "Mock-tail" Recipe that the whole family can participate in found here.

 Photo Source:  First Picture in this Collage was found here:  The last three are my Pictures.
My Notes on this Recipe:  This drink was very sweet to me.  Of course, I am diabetic, so I pretty much consider everything too sweet.  But, I would definitely cut down on the Orange Juice which is high in Sugar.  I would only use 1/2 of the Frozen Limeade and you could always go with a Diet Lemon Lime Soda.  I really enjoyed the little taste I had, so I will be working on a Diabetic Friendly version.  So check back I will share that as soon as I can perfect it.
So there you have it, a Quick and Easy way to Celebrate Cinco de Mayo at home.  I should add that the only ingredient needed to change the Strawberry Margarita recipe from a "Mock-tail" to a Cocktail is your choice of "Grown up Juice", as we call it at our house.  Fiesta… Fiesta!!
You have just finished reading Switching Things Up A Bit…. for Cinco de Mayo.  What is your favorite Mexican Dish?  Would you consider leaving a comment?