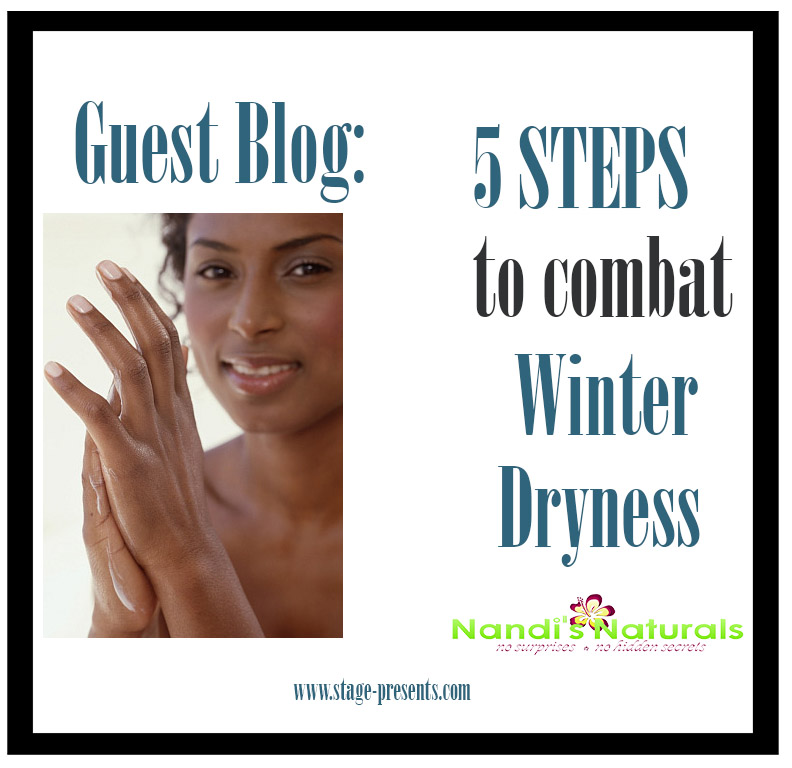 Colder months bring with them a new set of skin-care challenges. Unless we live in subtropical climates, the air is usually more frigid and drying, and less humid. With winter well underway, I'm going to share 5 tips for helping your skin survive this year's cold front.
Stay hydrated. Just because the weather has gotten colder and you may be perspiring less, doesn't mean your body requires less hydration. Drink up. As a matter of fact, don't drink any less than you would during hotter months. Your skin requires the moisture that comes from being properly hydrated as much now as it did in warmer months. Colder weather has a tendency to be drier, meaning less available moisture for your skin.
Use thicker, slower-absorbing moisturizers. A few of my favorite products during colder months are Nandi's Skin Relief Butter and any of their body butter bars or lotion bars. Why? Because these are heavier in consistency and slower to absorb than normal body butters and lotions, therefore being longer lasting on the skin. They're wonderful for locking in moisture right after a shower or bath. At the same time that these create a protective barrier against moisture loss, they also condition the skin.
More baths, less showers. You've probably heard this before, but it bears repeating. Even during summer months, showers can cause buildup on the skin, resulting in scaly and severely dry skin. Bathing opens the pores, provides more absorbent topical moisturizing and helps shed dead skin, especially on legs and feet. Not only that, it's the perfect way to unwind and release stress. Be sure your baths or showers aren't too hot, because too much heat can be drying to the skin.
Moisturize heels. Don socks. Sleep. All summer you've walked around showing off your toes. Winter is the time to revitalize and pamper them. My nighttime ritual year 'round, but most especially during winter months, is to moisturize my feet, paying special attention to my heels, and slip into a pair of socks at bedtime. Performing this ritual leads to a lot of repairing and conditioning while you snooze. Come summer, you don't have to get your feet ready, because they're already ready.
Open your curtains and blinds and let the sun shine in. Okay, okay, this one isn't exactly a skin-care tip, but in a way it is. Our absorption of vitamin D is decreased during winter months. This could possibly contribute to more illnesses, including depression. Sunlight can help lift your spirits during winter months, which may motivate you to do more to care for your whole body. Your skin being one of your largest organs can't help but benefit!
About Nandi – 
Here's an excerpt that I swiped from her website about her Vision. – Born and bred in small-town Louisiana, most of what Nandi's Naturals founder Yolanda "Nandi" Jacobs consumed came straight from the earth, no additives, no preservatives, no fillers. While life choices might have taken this kreyól girl away from her small-town upbringing, one thing always remained: a desire to recreate her childhood, where figs and pears were picked fresh off the trees in her grandmother's backyard, where chickens clucked, roosters crowed, cows mooed and birds chirped. Of course, she didn't want to place all those ingredients in her products, but you get the drift—good products don't require tons of unpronounceable ingredients, when simple, safe ingredients will do. So, it's with the vision of summer days eating blackberries until her mouth turned blue and fingertips black, that Nandi set out to create body care products that didn't require a chemist to translate the ingredient list or cause panic attacks after seeing the price tag. In other words, she wanted her cluck to be a cluck and her moo to be a moo.
You Can Find Nandi from Nandi's Naturals on: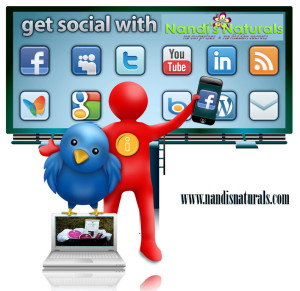 The Nandi's Natural Company Website: