I have clearly been on a Sausage Kick, since this is the second recipe in less than two weeks that I have posted where the main ingredient was sausage.  But, in my defense, it's a break from the norm.  The protein portion of our dinner pretty much always consists of Chicken, Beef, or Fish, and that is it.  It doesn't hurt to mix things up every once in a while.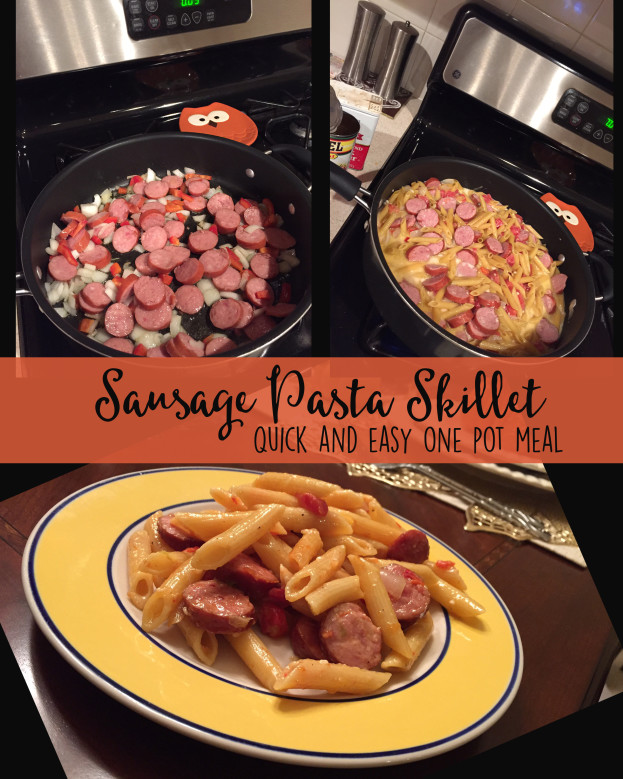 In keeping with my rules for trying a new recipe, this one was once again, Quick and Easy with minimal ingredients that were not already in the pantry.  This actually came about because I bought more sausage for the Sausage and Peppers, than I needed.  So I needed to figure out something to do with what was left, and I found this recipe for the Sausage Pasta Skillet here on HweScott.blogspot.com.  As important as reading through the recipe, for me, is reading the reviews.  And, this one had great reviews that included a lot of awesome tips to make this recipe that much better. (follow the link to read the reviews)
Spicy Sausage Pasta Skillet 
via Plain Chicken
1 tbsp olive oil

14 oz smoked sausage, sliced into 1/4″ rounds

1 cup onion, diced

2 cloves garlic, minced

2 cups low-sodium chicken broth

1 (10 oz) can rotel (I prefer mild, but if you want more spice use the original)

1/2 cup heavy cream

8 oz whole grain penne (or whatever noodle you prefer, I've also used bowtie)

Pepper, to taste

1 1/4 cup shredded Monterey Jack cheese

thinly sliced scallions, for garnish
 Heat oil over medium-high heat in an oven safe skillet until hot.  Add the sausage and onion and cook until lightly browned, 4-5 minutes.  Add in the garlic and cook until fragrant, 30 seconds.
Add the broth, rotel, heavy cream, uncooked pasta, and pepper.  Stir well.  Bring to a boil, then cover and reduce heat to medium-low.  Simmer until the pasta is tender, 15 minutes.  Stir once or twice while cooking.  Preheat the broiler while pasta is cooking.
Remove the skillet from the heat, stir in 1 cup of the cheese. Taste, and add salt as needed. Top with the scallions and remaining cheese.  Broil until the cheese is melted and lightly browned – about 3 minutes.
Tastes great as leftovers the next day, too.. if you have any.  😉
Here are my Notes on this Recipe:  Make sure that you use the recommended amount of Chicken Broth. It may seem like it is a lot but, in order to get your pasta to the desired consistency this is a must.  I used the original Rotel.  I thought it was fine but the kids thought it was too spicy.  They ate it, but with a lot of… drama.  ("We need water, lol".)  Heavy Cream is the same as Heavy Whipping Cream who knew.  I used the recommended 1/2 a cup of heavy cream, but I could have used some more just to make it creamier.  I used one package of Hillshire Farm Smoked Sausage and I would recommend using 2 packages. I used a whole box of penne pasta, and there were a lot of left overs, after my family of four was done.  Over all it was a very tasty dish, maybe more suited for an adult meal, but I feel like with the small changes I listed above the kids would enjoy it as well.   I plan to try this again, and will share the results from the second time around.
What are your favorite go to recipes this time of year?  If you add this one into the rotation, please share your thoughts.