This month's Creative Interview has been one of my favorites thus far.  The reason behind that is that Kori is a personal friend of mine, that I have NEVER physically met.  Back in 2003, when we were both pregnant with our now 10 year olds, we joined an Online Parenting Group for Expectant Moms due in November.  I think we were both looking for people who were experiencing the same things that we were at that time, like the indigestion, weight gain, and over all pregnancy woes.  The group went through major transitions over the years.  And, literally there are only a few of us still standing.  But, what developed out of that setting were some very meaningful and unexpected friendships.  She was the first military wife that I had ever known.  Long before my obsession with the Lifetime Show. I was always fascinated by the way she  played her position taking on whatever was thrown at her while still maintaining order, stability and security for her family.  The sacrifices that not only those serving our country, but also the families left behind is humbling.   Check out what Kori has to say about life as a military wife and mom and transitioning to civilian life.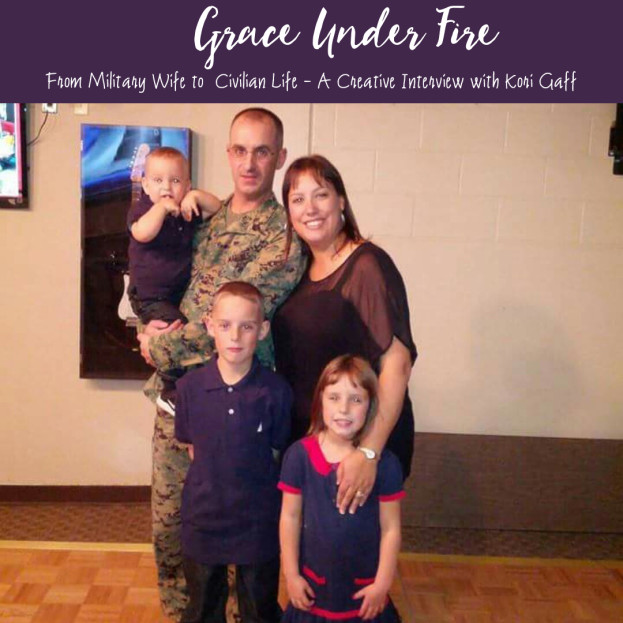 When did you become a military wife?
We were married June 19 2001.  That's when my journey as a military wife began.
How long was your dh in the military?
He was in the United States Marine Corps for 20 years.

Was he in the military before you got married and did that weigh into the decision to marry him?
While we did date in high school we were not together when he joined.  When we got back together he was already a Marine.    Him being in the military really didn't have any bearing on my decision to marry him.  Partially because my father was in the military when I was a kid so I had an idea of what my life was going to be like.   And partially because it didn't matter to me.

With him being deployed, was he able to be their for the births of all of your babies?
I was really lucky and he was home for all of my pregnancies and births.  There are many women who don't have that.

What was the hardest time that you spent alone?
In March 2011 he was deployed on ship in the Asia Pacific Region.  (Japan, Thailand, Malaysia etc).  I awoke one morning to many texts , Facebook posts and Facebook messages asking if Mike was ok.  I had no idea what they were talking about.  I turned on the news and found out there was an earthquake and tsunami in that area.  I quickly turned on the computer and had a message from him that read, " I'm fine."   During the next communication I found out that they were on their way back to Japan to see if they would be needed in the clean up efforts.  For the next couple of months the stability of the of the Fukushima Dauichi nuclear power plant went from bad to worse, getting up to level 7 emergency. Nuclear chemicals were leaking out and evacuations took place. The ship remained "docked" in Japan.  So there was a very real fear of what chemicals he may have been exposed to.

How was the transition when going from being a Military Wife to being a civilian?
The transition from military wife to civilian wife was difficult for me.  I spent all of my adult life living one way and then it was just done.  We moved to a non military town and I felt out of my element, sometimes I still do and it's been a year.   As a military wife I was always able to find people like me.  As a civilian I felt alone and like I didn't fit anywhere.

When did he retire and after how long?  Do you think he regrets it or was he happy to move on?
He retired from the Marine Corps March 31, 2014. After 20 years he was ready to move on.

What were some of the major changes after he retired?
Major changes were the move back home.  Finding a home, a job, new schools for the kids.   Healthcare was huge because we never had to deal with health insurance before.  The stability we had was gone.
 How did it change the family dynamic?
The family dynamic hasn't really changed too much.  Mike is home more now so I'd say that actual co parenting is new.  Before I really just decided what was what and now it's discussed more.

What advice would you give a new military wife?
It's all what you make of it.  If you decide things stink…they are going to stink.  You have to be able to find some silver lining.   Find friends, they will help you through.

What advice would give to a wife who is transitioning to civilian life?
Just go with the flow.  There will be ups and downs but you will get through them.  It might be hard for a while but you've been a military wife already, you've got this.

Is there anything that you would have done differently at any juncture in this whole process?
I don't think I would've done anything differently.  The military gave me a great life, now it's time to see what civilian life has in store.
"It's all what you make of it.  If you decide things stink…they are going to stink.  You have to be able to find some silver lining.   Find friends, they will help you through." –Kori Gaff