Nothing warms and brightens up a home like direct sunlight. For those of you who live in Coastal areas you are blessed to have this feel/look everyday.  For those of us in areas with cooler temperatures for a better portion of the year, this is just a wish.  I have always dreamed of having a "Florida" Room that gets kissed daily by the sun.  But since that is not really an option for me, the next best thing is to recreate the perfect Florida/Sun room in my own home.
DREAMING UP THE "PEREFECT" FLORIDA ROOM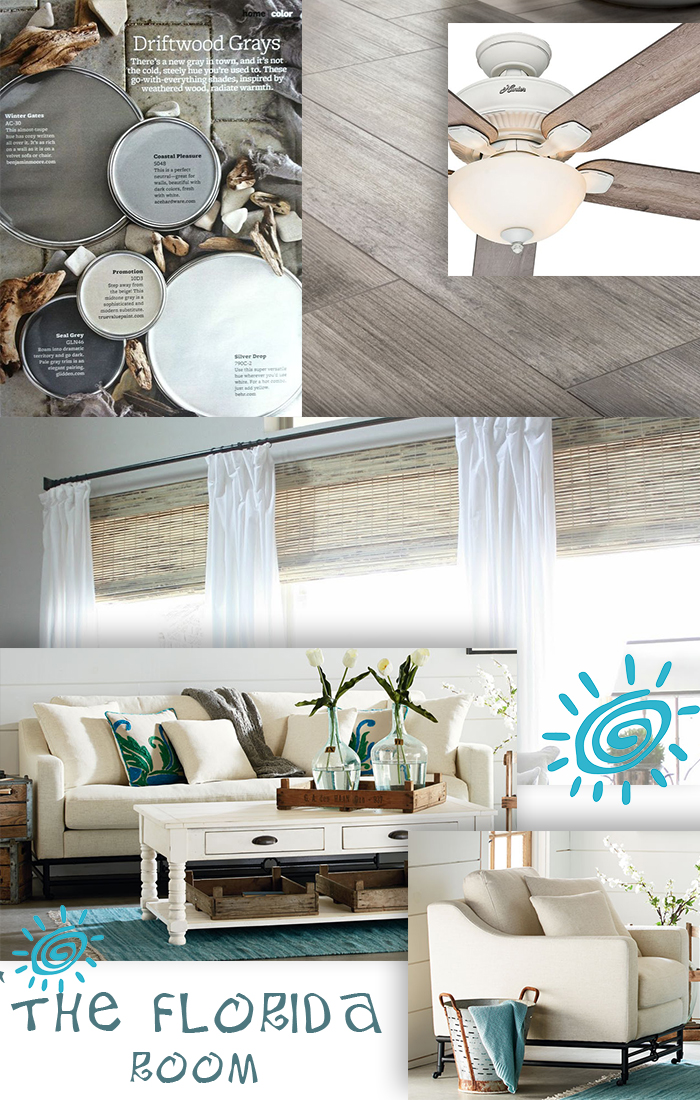 Photo Sources:  Better Homes and Gardens Driftwood Grays (1)  Gray Hardwood Floors (2) Hunter 52″Cottage White Outdoor Ceiling Fan with Grey Pine Blades (3) Bamboo Roman Shades (4) American Signature Furniture Ironworks Sofa and Chair by Magnolia Home (5)
I strongly believe that there is no wrong or right way to put together a room.  I have based rooms on something as small as a vase, and on something as large as a sofa.  With this room, my starting point was the Color Scheme: Driftwood Grays (pictured below).  I have always been a fan of Grays, from wall paint to furniture.  There is something calm, cooling and serene about this color.
THE BONES OF THE PERFECT SUN ROOM:
Driftwood Grays Color Scheme
Gray Hardwood Foors
Ceiling Fan with Grey Pine Blades
Bamboo Roman Shades
Light Airy Furniture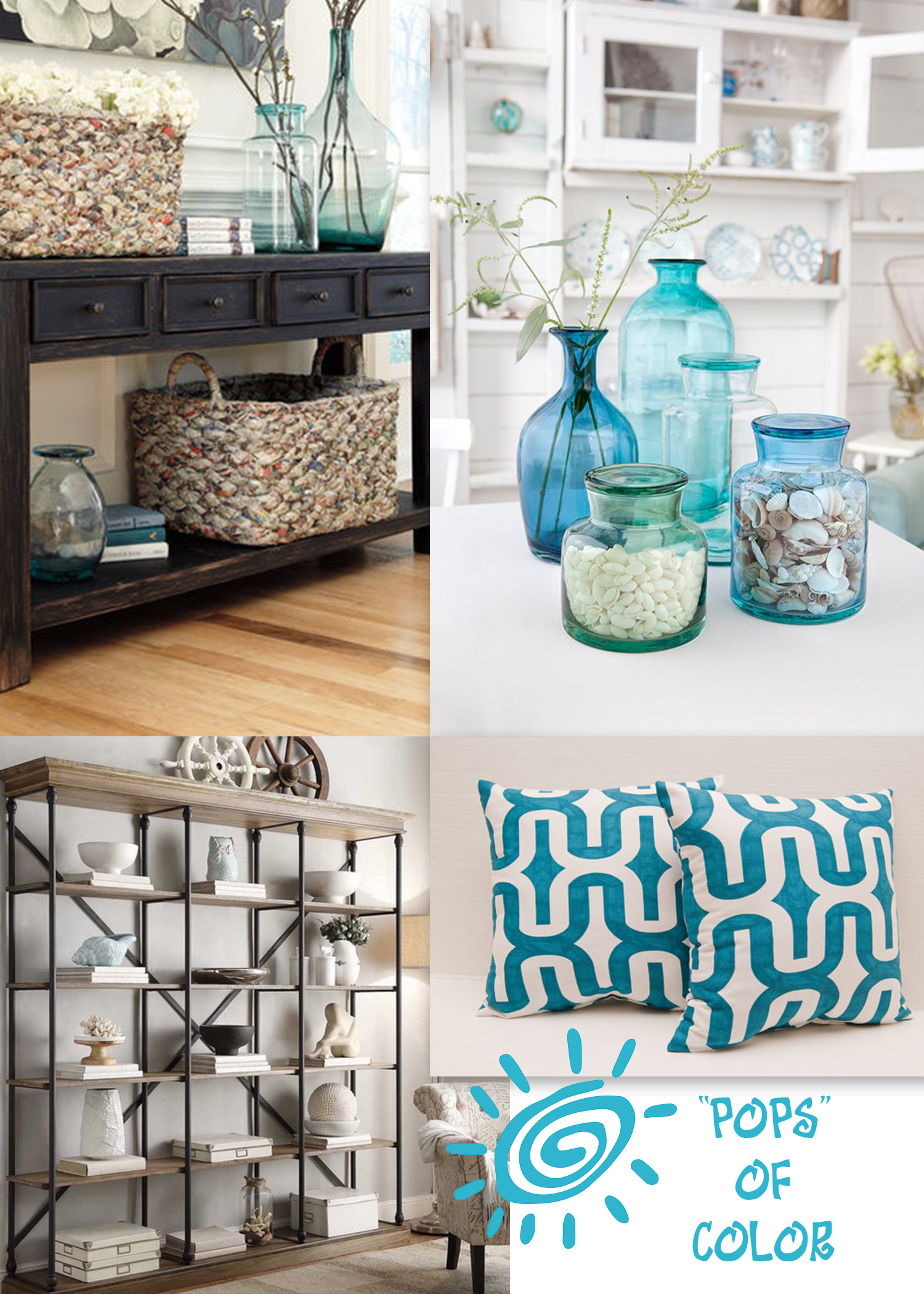 Photo Source:  Over-sized Baskets (1)  Vases in Different Hues and Sizes of Blues and Greens (2) Oak Driftwood Shelves (3) Blue Aqua Embrace Aquarius Embrace Pillows (4)
ACCESSORIES:
When planning out a room with a theme in mind, the ideal accessories are the finishing touch to your space. I tend to gravitate towards blues and greens on a every day basis, but especially when thinking of Coastal/Nautical Decor.  It brings a beachy/ocean/summer feel to your living space, no matter what time of year it is.  You can read more on what emotions different colors evoke here. Here are some of my favorite pieces, just to name a few.
Decorative Throw Pillows
Light-Weight Blanket Throws
Baskets
Driftwood Furniture
Lanterns
Vases
Bric A Brac – Seashells, Coral, Greenery, Fresh Flowers
So there you have it, my take on the Perfect "Florida" Room.  Could you make yourself at home here?  Shall I pour you a tall glass of lemonade?  What are some of your favorite Coastal and Nautical Finds? Share them in the comment section below, I look forward to reading all about it.  Looking for  more inspirational ideas check out some Florida Real Estate here.