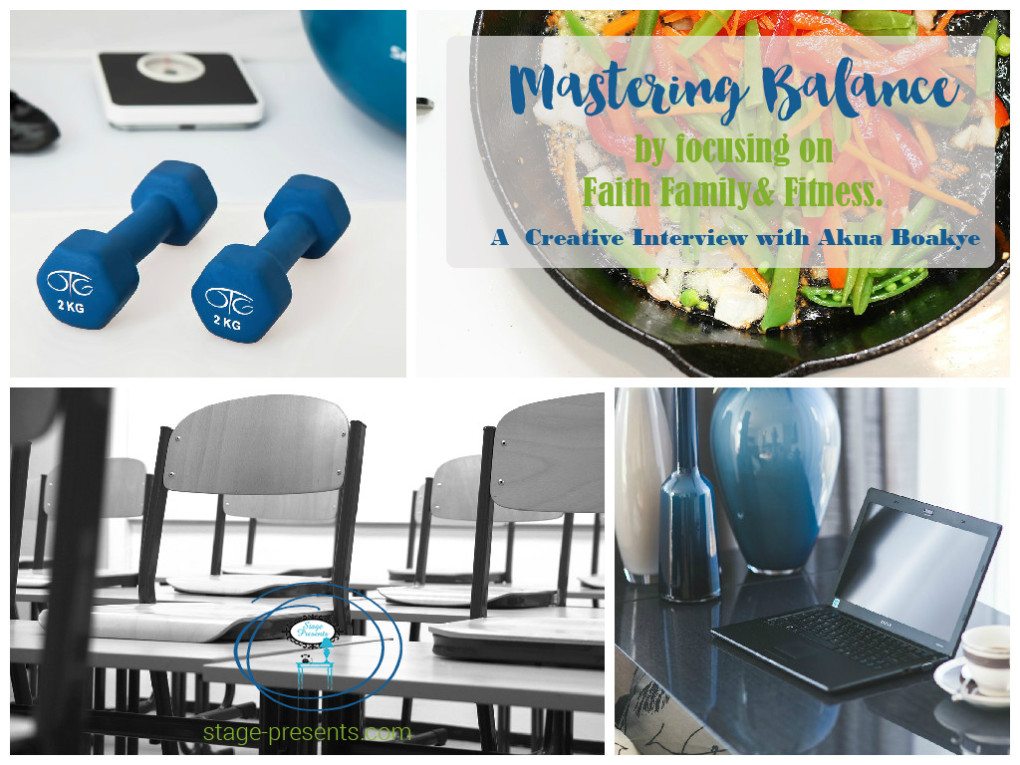 Akua, and I are members of the Group Passionistas [a group for female entrepreneurs] on Facebook.  After reading many of her posts, I was amazed at all that she packs into one day.  She has a thriving business, a full time career, a family (she's very involved with), and lots of friends.  And, she finds time for all of it.  This interview was prompted mostly by curiosity.  But, I also wondered what nuggets she could pass on to those of us who are trying to master finding balance in our every day lives.  I truly enjoyed getting to know her better and getting her realistic, "tell it like it is" point of view.  She doesn't deny that it is work that demands commitment, but demonstrates that it CAN BE ACCOMPLISHED.
How long have you been committed to healthy eating and working out?
I've been working out and eating healthy consistently  for the past 10 years.  Please note that for me eating healthy is all about balance.  I'll say, I eat healthy about 80% of the time, but I also allow some "cheats" 20% of the time. I enjoy going out to eat with my family and friends.  I have found that  this way allows me to remain consistent  and not feel deprived.
What does your routine look like and do you change it up depending on the season or your moods?
My exercise routine changes according to my goals at the time. No 2 days of working out is ever the same. I set mini goals either weekly or monthly for myself. (i.e: hold planks for more minutes, do x amount of pull ups, run a certain amount of miles, etc. )My daily workout can range from full body circuit training, treadmill interval runs with inclines, heavy lifting, Insanity (my fav…Shaun T is my MAN) bleacher circuits, boxing,  and a host of others.  For me it is  all about constantly challenging your routine and shocking your body. A challenged body will be a changed body.!
How do you balance a full time job, your family and make time for yourself and your Boot Camp?
The balance  for me took some time. I started  this journey over 10 years ago as a single woman with very few responsibilities aside from my teaching career .  In the process, I've gotten married, become a mother and owner of 2 businesses (BodybyAkua Fitness LLC  and Treat You Right Foods LLC ).  My balance comes from knowing that each of these aspects of my life are equally important.   What I know for sure is that we MAKE  time for what we really want . My family and faith are extremely important to me, but I am also aware that to sustain my family, I must work hard to provide. I MAKE time for my fitness lifestyle because without  my health and a clear mind, I cannot be a good wife, mother, friend, and an entrepreneur. These elements are interconnected. I cannot succeed in one without the other.  My Fitness is seriously the magic potion that powers me through the rest of my busy life.
What advice would you give to anyone who wants to make positive change for a healthier lifestyle?
My advice  to anyone who wants to make a healthier  lifestyle a part of their routine will be to first figure out why you want to get healthy and fit to begin with.  If your  reason for a healthier lifestyle is temporary,  then your results  will also be temporary.  So for example, if you only want to exercise and get healthy because you are in a wedding, going on a vacation or trying to impress someone at a class reunion, then you are most likely not going to continue once those events come and go.  Being healthy and fit should not be temporary, but rather a part of your regular routine. When you change your mind set  and look at healthy living as a daily necessity, you are most likely to stick with it.   Also, when starting out, start with smaller  changes in order to not feel overwhelmed.  (Cut out one sugary drink daily, eat one less fast food this week, go for a nice easy walk after dinner, park the car a little further  and walk, take the stairs, cook one healthy  meal at home). These changes, while small will eventually become habits and help with your success.
Can you share a favorite quick and easy recipe that our readers can prepare for their families?
I pride myself in being the "queen of quick meals". With such a hectic schedule, being able to make a quick, yet healthy meal is the way to go. The trick is to have already prepared or quick steamed foods on hand.  Example.: Roasted chicken, egg whites, steam ready brown rice,  veggies,  spices, coconut or olive oil sprays )
My favorite quick meal to prep for my family  is my Healthy chicken Fried Rice with veggies. This meal is loaded with all nutrients needed to sustain a healthy body. (Good carbs, Protein, healthy fats, fiber etc.)
(Steam the rice and veggies in advance)
Heat pan with Spray  of coconut or olive oil .
Add egg whites to pan and cook scramble style, add steamed veggies of choice, mix together  and add your favorite  spices, I also add 2 tbsp of ginger dressing, add 1 tbsp of oil as well as shredded  chicken and steamed brown rice.
Mix all well and cook together for about 3 to 5 minutes.  DONE
During the cold winter months  I use my Crockpot to make steel cut oatmeal overnight, so by morning, it's ready to go.  just add some fruits or peanut butter.
 What is your favorite exercise and the one you hate but love the results?
Currently, my favorite exercise is any variation of  squats.  Squats are awesome  because since they incorporate  such big muscles, it burn tons of calories and a proper squat can also work the core and other parts of the body besides the lower. Plus, it shapes the Glutes nicely.  I seem to always find a way to add in some squats daily.   I have developed a love /hate relationship with the burpees lately. Burpees are EXCELLENT for total body conditioning. There are so many variations!  It works almost every single muscle in the body. I love them because I know they are effective  but I hate them because they easily wear me out.
Any words of wisdom that you would like to add.
I would like to add that fitness/healthy living is a personal choice. YOUR BODY. YOUR DRIVE. YOUR RESULTS. Please know that you are and should always remain your own competition. Strive to be better each day than the day before.  Set small goals for yourself and find ways to accomplish those goal. It is ok to admire  and be motivated  by others,  but,  please do not compare yourself to others in this journey.  Each individual has their own story and history. Celebrate YOUR accomplishments be it small or big.
With the craze  of social media and "fitness models" on the internet,  people tend to want to look like these models and look for quick fixes to get there.. Well the truth is there is NO PILL,  NO TEA,  NO WRAP,  NO CREAM OR WAIST TRAINER that can take the place of eating healthy  and moving the body. The only way to a fitter body is to put in some hard a** work and a balanced clean diet. .
You can find Akua all over the web:
Emails: akua@bodybyakuafitness.com
                akuaboakye79@gmail.com