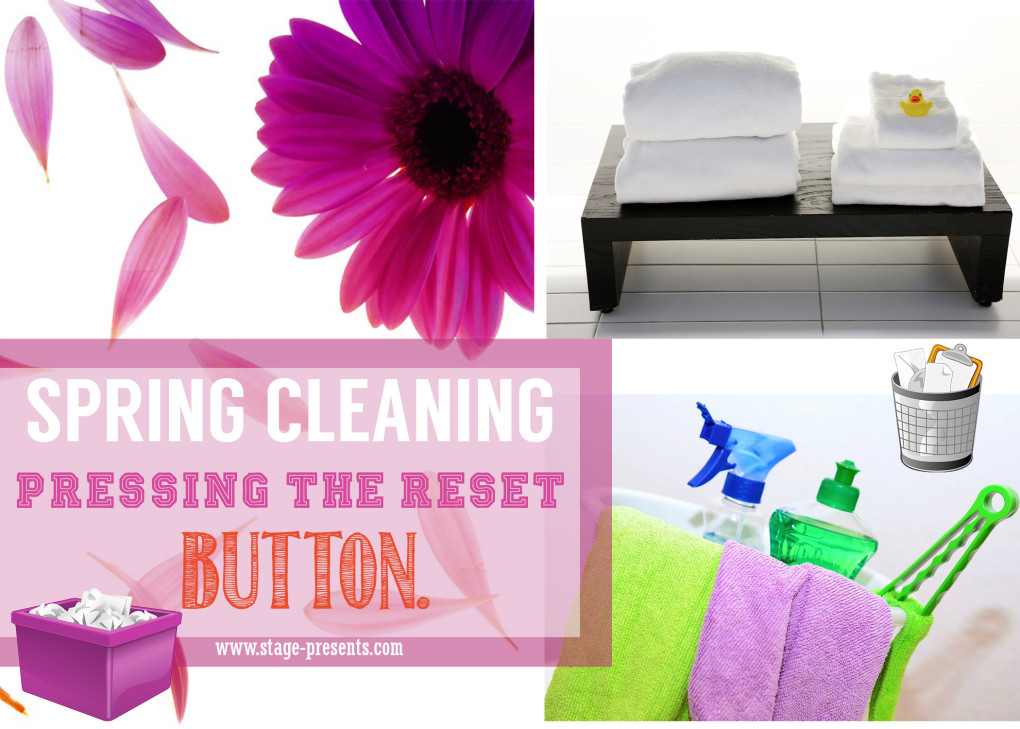 For me, the first days of Spring are not only defined by tulips pushing up out the ground, and longer days.  Spring to me means a fresh start.  Time to revamp and reset.  Time for Spring Cleaning!!
Have I mentioned that I love Spring Cleaning.  There is just something about being able to throw the windows open and let the Fresh Breeze waft through the house.  That coupled with all the scents and smells gives me a natural high.
The Purge: I start off with some Major Purging.  I go through all the closets in the house, and get rid of all the clothing, that is too small, too damaged, or just plain old.  I make a Goodwill Pile, a Friends and Family Pile and a Garbage Pile.  Then, I start on the toys.  I can never purge too much in this area.  No matter how many toys we dump or give away there always seems to be too many.  Next, I tackle the paper clutter, and try to get rid of and shred anything that is just taking up space.  The last thing I tackle is always my Catch All Closet, as the year goes by the Decorations from every season get stashed here, along with anything that just needs to be out of sight.  I can't tell you how many things I find in there every Spring that I had forgotten about.  It's like a treasure hunt.
Linens and Towels:   I do a major refresh of all the sheets, comforters and towels.  Using this method found here on DelectableDarlings.com.  The only thing that I do different is that I tend to wash them before, and after I do the refresh.  Just because I like the way that my detergent and fabric softener, leave everything smelling fresh and clean.
The Nitty Gritty:  So, I have been regaling you with the joys of Spring Cleaning and how much I enjoy it.  Well, this is the part that I hate.  The GRUNT work, but unfortunately it still has to be done.  So this is when I put on my Dust Mask, and my Long Rubber Gloves and get down to Brass Tacks.   Cleaning the base boards, dusting for Cobwebs up High, Cleaning the Ceiling Fans, and Brightening Up the Grout in the Kitchens and Bathrooms.  This can be as labor intensive as you desire it to be.  I prefer to get it done with ASAP.  So here are a few tricks that I have found that work wonders.  For the Baseboards, I first go over them with Dryer Sheets to get all the Dust off and then Follow with a Mr. Clean Magic Eraser.  Whatever you don't get with the Dryer Sheet should come off with a little Elbow Grease and some help from Mr. Clean.  My ceilings are really high in the front foyer.  I can't even reach them with a traditional ladder, so I have to borrow an industrial ladder, and equipt with a broom, and a old t-shirt, I get up high and knock Charlotte out of her web.  Next, on my list, the celing fans which accumulate more dust than I even like to think about.  To get this job done quickly, I employ the use of an old pillow case, to capture all the loose dirt and then I wipe it down with Mr. Clean Magic Eraser and a Disinfectant Wipe. Last on my knees, is brightening the grout, luckily for me, I only have to deal with this in the kitchen and the bathroom. I use the same method in both rooms. The best part of this cleaner is you more than likely have all the items you need already in your arsenal.  You will need:  1/2 cup White Vinegar, 1 cup of Warm Water, 2 cups of Baking Soda,  A Generous Squeeze or 2 of Dawn Dish Soap, a Cleaning Rag, a Spray Bottle and a Cleaning Brush or Old Toothbrush.  Combine all parts in Spray Bottle and Shake Vigorously.  I spray down all the areas where I have this problem, and then cover them with Paper Towels and then Spray the Paper Towels until they are soaked.  Then I leave it on there, for as long as I can, before scrubbing to get it back to its desired color.  I have had this recipe for a while, so I am not sure about the actual source.  But, I will say this you can adjust to meet your needs.  I have even added in some bleach in the bathroom.  But, be careful combining all these chemicals.  If all of that seems too time consuming, try Polyblend Grout Renew found at Home Depot.
Outside of the House:  Lastly, its time to hit up outside, the Garage, the Front Yard and the Back Yard.   I will admit that this is not my area of expertise.  I assist with cleaning out and organizing the garage sometimes.  But, the rest of this falls under hubby's Honey Do List.  This is normally, when he will go over all the shrubbery and trees, spray for weeds, and put out new mulch.  We also have hornets  who love to make our home, their own as soon as the weather gets warm.  So, he also goes out and finds the nests, and sprays for all manner of critters that like to find their way in. This is normally when I decide what I will grow this season.   I have had some ambitious years and some not soo ambitious years with gardening.  This year, I am pretty sure that I am just going to stick to tomatoes, peppermint, basil, and peppers.  Are you still trying to figure out what you are going to grow this year?  Check out this Vegetable Growing Cheat Sheet found here, for some ideas.
So there you have it, my Not so Quick and Not so Easy Spring Reset Cleaning List.  Does my list even resemble yours?  What are the major areas that you tackle when the Season Changes?  Do you have any time and money saving tips to for me?