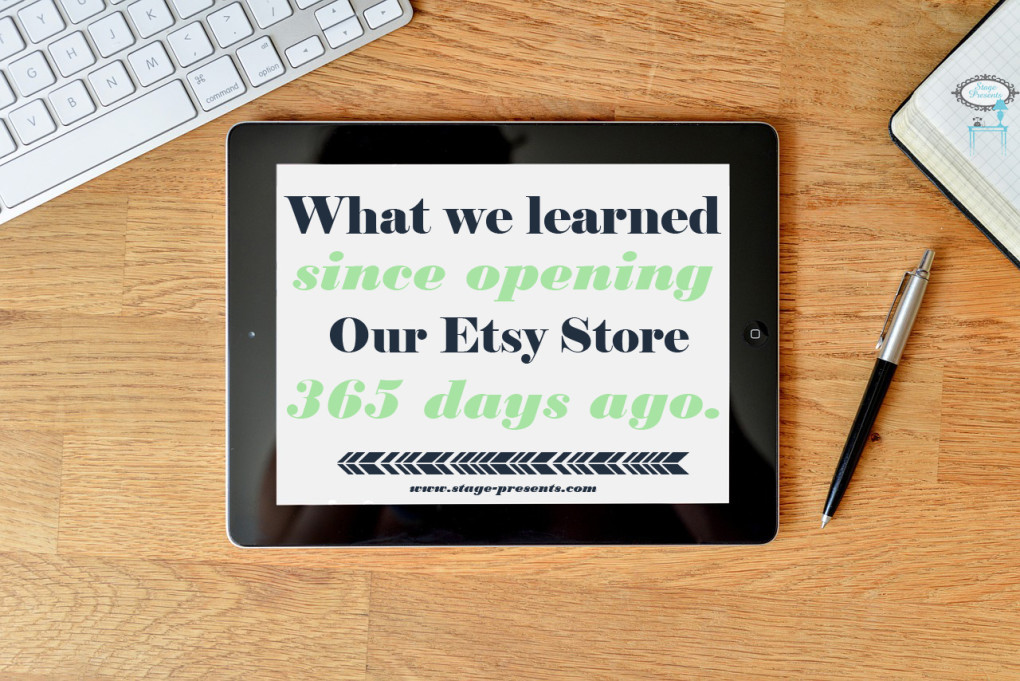 Today, February 10th, 2015, marks the One Year Anniversary of Our Etsy Store.  I can hardly believe that it has been that long, but I can.  I remember how nervous I was the day that we officially launched Our Store.  I had no idea what the future would hold for Stage Presents, or how our items would be received.  But, we stepped forward in faith and embarked on this grand journey.  As most of you know, Stage Presents is a joint venture between my husband and I, and if you really want to know, I think its the secret to our success thus far. So….. I enlisted his help in writing this post.
As in any business effort, there is a lot of behind the scenes work that the customers never see. (Lucky for them, because it can get messy.)  Prior to starting this venture and through out, we did a lot of research, trial and error.  Here are some of the things that worked for us.
You must have clear detailed product photos.  I can't stress this enough.  I am a part of several Facebook Etsy Groups, and fellow shop owners are ALWAYS asking for critiques.   This is the most frequently given answer, of how to improve your shop.  [Lucky for me, hubby is a photographer, so we had that in the bag.]  Keep in mind that you are an Online Shop.  Your customers DO NOT have the luxury of being able to feel and touch and discern the quality of your items.  So a picture is literally worth a thousand words.
Be Prepared to Put in the Time Necessary to Make This Work For You. IT IS TIME CONSUMING. Not only is it going to take time to create each individual listing, as well as whatever product you are selling.  But, you need to also be prepared to Cross Promote.  Spend Time on Your Social Media Pages.  Network with Other Entrepreneurs.  Give as Good as you Get.
Be Responsive to Purchases, as well as Etsy and Social Media Conversations.  We get a lot of conversations regarding Our Items that do not necessarily result in sales.  It can be frustrating, but, you never get a second chance to make a first impression.  So, be as professional as possible, and put this in the Category of Possible Future Business.


"I've learned that people will forget what you said, people will forget what you did, but people will never forget how you made them feel." – Maya Angelou

Remember Murphy's Law. 

Some things are just out of your control.  This was a hard lesson for me.  Have a backup plan in place in instances where your products may not make it to their location in one piece and or if the product is delivered to the wrong recipient.
Pay Close Attention to Your Stats.  Where is Your Traffic Coming From?  What Keywords are People Searching to Get to Your Store?  What Time of The Day Are Your Items Getting The Most Attention?
Give People Choices – When Possible.  When Making Your Items Consider Making Multiple Versions of the Same Product – Different Fabric, Color Variations, or Even Size.
BE SPECIFIC.  Your customers will not know, if you DO NOT TELL THEM.  Make sure that your Product Terms and Conditions are Straight Forward and DO NOT leave room for Interpretation.
Lastly, Enjoy the Ride.  It will have its ups and downs.  Some weeks and even some months, will be slower than you could ever imagine.  Some things that you create and think are amazing, may or may not take off.  But, it's a learning process that will continue for as long as your shop stays open.
365 Days  – 99 Sales.
Thank you all for all the support you have given us over the year.  We couldn't have done it with out you.
Do you have any Tips that we didn't include that you would love to share with us? Funny Growing Pains Stories?  Please Share yours in the comment section below.