As a child growing up in the North, fall has always been associated with the changing of the leaves, the crisp morning air, trips to the Pumpkin Patch and Apple Picking.  As an adult,  I find myself gravitating to those smells at this time of the year.
Looking for the Apple Cinnamon smell in candles and air fresheners and placing cinnamon brooms all over the house, and even indulging in a little baking here and there.
Here are two recipes for a Great Fall Dessert I like, one is a little less indulgent, though just as tasty and the other is just downright decadent.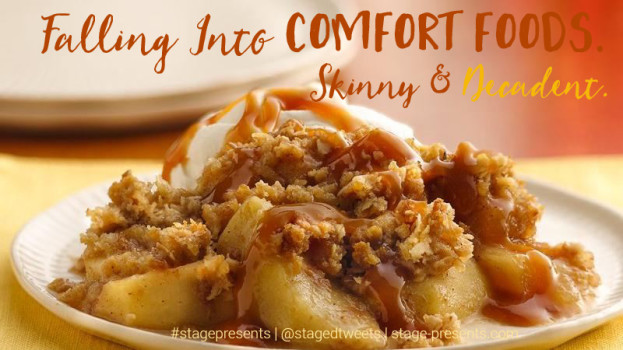 Skinny Cinnamon Apple Crisp
Recipe Found Here
Servings: 8 • Serving Size: 1/8th • Old Points: 5 pts • Points+: 7 pts
Calories: 242.0 • Fat: 6.8 g • Protein: 2.3 g • Carb: 49.5 g • Fiber: 4.5 g • Sugar: 32.3 g
Sodium: 10.1
For the Filling:
5 medium apples, peeled and diced
1.5 oz raisins (small box)
1/2 tsp cinnamon
1/2 lemon, juiced
3 tsp cornstarch
1/4 cup agave nectar
For the Topping:
1 cup Quaker quick rolled oats
1/3 cup whole wheat flour
1/2 cup light brown sugar (not packed)
1 tsp cinnamon
1/4 cup (half stick) butter, melted
Directions:
Heat oven to 375 degrees. Combine apples, raisins, cinnamon, agave nectar and lemon juice in large bowl. Sprinkle with cornstarch. Toss until fruit is coated. Place fruit in an ungreased baking dish.
Mix remaining ingredients. Sprinkle over fruit. Bake about 40 minutes or until topping is golden brown and fruit is tender.
Serve with a scoop of low fat ice cream or fat free frozen yogurt. Enjoy!!
Now for our more Decadent Recipe  –
Easy Apple Crisp with Oatmeal Streusel Found Here
Difficulty: Easy | Total Time: | Makes: 8 servings
When you don't have time to roll out the dough for an apple pie, a crisp is the next best thing. Just peel, core, and slice the apples; toss them with a bit of sugar and cinnamon; and dump them into a baking dish. Then mix the oats, brown sugar, and butter for the streusel in the same bowl you used for mixing the apples, which saves you a dish to wash. Sprinkle the streusel over the apples, and in about an hour you'll have an easy dessert of bubbling apples blanketed with a crunchy, sweet topping.
Game plan: Adjust the sugar in this recipe to the sweetness of the apples, using 2 tablespoons for exceptionally sweet ones and 3 if the apples are on the tart side.
Click here to watch the CHOW Test Kitchen's Amy Wisniewski make this easy apple crisp in our Easiest Way video series.
INGREDIENTS
2 1/2 pounds medium Granny Smith and Golden Delicious apples (about 5 or 6), peeled, cored, and sliced 1/4 inch thick
2 to 3 tablespoons granulated sugar
3/4 teaspoon ground cinnamon
1/4 teaspoon fine salt
1/2 cup packed light brown sugar
1/2 cup uncooked rolled oats
1/3 cup all-purpose flour
4 tablespoons cold unsalted butter (1/2 stick), cut into small pieces, plus more for coating the dish
INSTRUCTIONS
Heat the oven to 350°F and arrange a rack in the middle. Lightly coat an 8-by-8-inch baking dish with butter.
Combine the apples, granulated sugar, cinnamon, and 1/8 teaspoon of the salt in a large bowl and toss to coat. Place the apple mixture in the prepared baking dish and set aside.
Using the same bowl as for mixing the apples, mix together the brown sugar, oats, flour, and remaining 1/8 teaspoon salt until evenly combined. With your fingertips, blend in the butter pieces until small clumps form and the butter is well incorporated, about 2 minutes.
Sprinkle the topping evenly over the apples and bake until the streusel is crispy and the apples are tender, about 50 to 60 minutes. Let cool on a rack at least 30 minutes before serving.
Follow the link above for Beverage Pairing Ideas.  And, if you happen to try either of these recipes be sure to let me know which one you love.