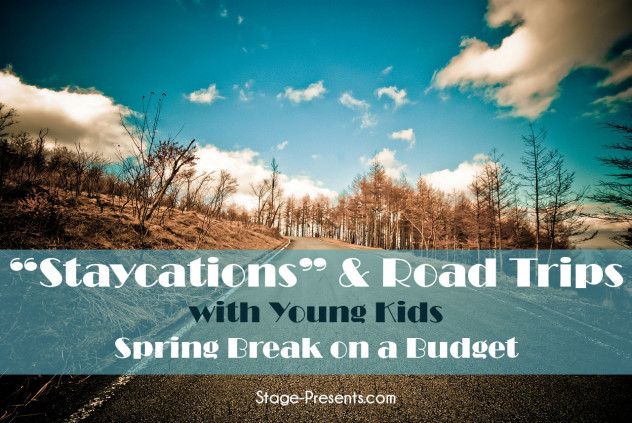 Spring Break always brings to mind visions of warm weather, beaches, vacation homes, hotels and lots of sun.  But, what do you do when your budget doesn't make those things a possibility.  The change in the economy some years back brought to the fore front the concept of Stay-cations (vacations spent at home).  I am sure most people, don't find that idea to be too appealing, myself included. This year I had grand plans for Spring Break, but due to unforeseen circumstances they fell by the wayside.  So, I was left scrambling to find something to do with the kids to occupy their days while not graying anymore around the temples.
Luckily for us, the beginning of Spring Break happened to fall on Easter.  So we decided to go visit family deeper South.  Yep, that means a Road Trip with young kids.  That is about as terrifying as the whole idea of the Stay-cation.  Check out our post back in October 2013 on Road Tripping with Kids.  Well our kids aren't that small so you would think, no big deal, but we have a 5 year old, who NEVER has to go potty until we are on the road, with no Rest Stop in Sight.  That lead to two unplanned stops both going and coming, much to the dismay of our less than sympathetic chauffeur aka Daddy.  But, we made it there despite the added time to our trip. Our Trip meant at least one night of hotel stay, and for the kids that was equivalent to heaven.  We were also excited to find out that their was a Fair in town.  They got a chance to experience a good old Country Fair in all its glory.  So we were still scoring, as far as the kid's were concerned.
The hard part of course was still to come.  We were headed home and needed to figure out what to do with them for the remainder of the week.  So, I pulled out my trusty planner and decided to put together a Pseudo Schedule/Plan so that we wouldn't drive each other batty.  I penciled in Day Trips to the local kid's museums, the local zoo, and even some Ferris Wheel and Water Park Fun. Add to that some Easy Craft Projects, and a few inexpensive trips to Local Fast Food Joints, the Farmer's Market, and Ice Cream Shops.  And, you have a week filled with entertainment and joy for all parties involved.  Or at least that's what I am hoping.  Keep in mind that you have to take into account that you are planning around the weather, temperaments and time constraints, but it will all be worth it in the LONG RUN.  What are you doing or what did you do this Spring Break?
"Life is to be Enjoyed, Not Endured." – Create your Own Joy!!