Here is something that you should know about me, I am a "List-a-holic".  I like to have a list for everything, much to the chagrin of my hubby and kids.  So with Thanksgiving coming up.. I am checking my lists… once maybe even twice, lol… Here are some other great lists I found all over the web.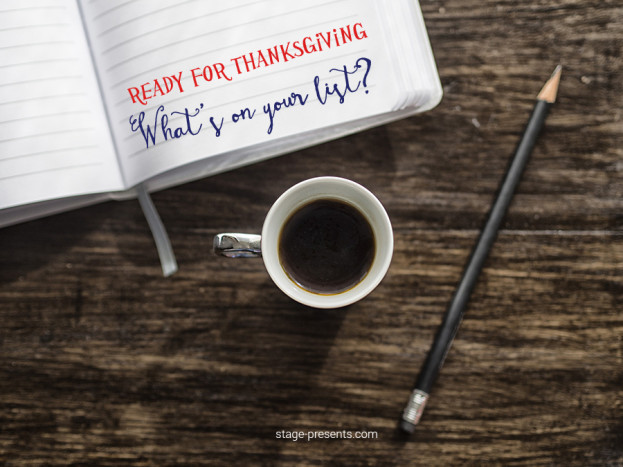 Check out this list found on Epicurious.com.  They start 6 weeks out, but we are going to jump in where we are..
Monday Before Thanksgiving:
Buy the rest of your perishables today or tomorrow.
Wednesday Before Thanksgiving:
To make tomorrow manageable, do as much cooking as you can today. Here's a list of ideas:
Defrost pie crusts and turkey stock.
Assemble and bake pies; store them at room temperature (unless they're custard-based, such as pumpkin pie, which should be refrigerated).
Prepare any side dishes, such as mashed potatoes, that can be made ahead and reheated in the microwave.
Clean and dry salad greens and store them in a resealable plastic bag.
Set the table; arrange chairs; set out flowers, candles, and any other decorations.
If brining your turkey, prep it and leave it in the brine overnight.
Thanksgiving Day:
The big day! Here's a schedule to help you sail through with ease:
morning:
If stuffing your turkey, prepare the stuffing and fill the turkey.
Put the turkey in to roast.
Defrost breads and any other prepared items that have been frozen.
Chill white wine and beer. Set up the bar for any other drinks you'll be making.
midday:
While the turkey is roasting, complete all the other dishes. Let them stand at room temperature or, if ready more than one hour ahead, refrigerate.
half an hour before dinnertime:
When the turkey comes out, let it rest while you make the gravy and reheat the side dishes on the stove top, in the oven, or in the microwave.
Dress the salad.
dinnertime:
Carve the turkey and serve the meal. (Don't forget to save the carcass for turkey soup.)
after dinner:
Readers Digest Thanksgiving Check List
A Thanksgiving Cooking Check List at Blissfully Domestic:
Being Prepared, is a Major Part of Any Successful Holiday.  What is your favorite go to list for Thanksgiving Prep?