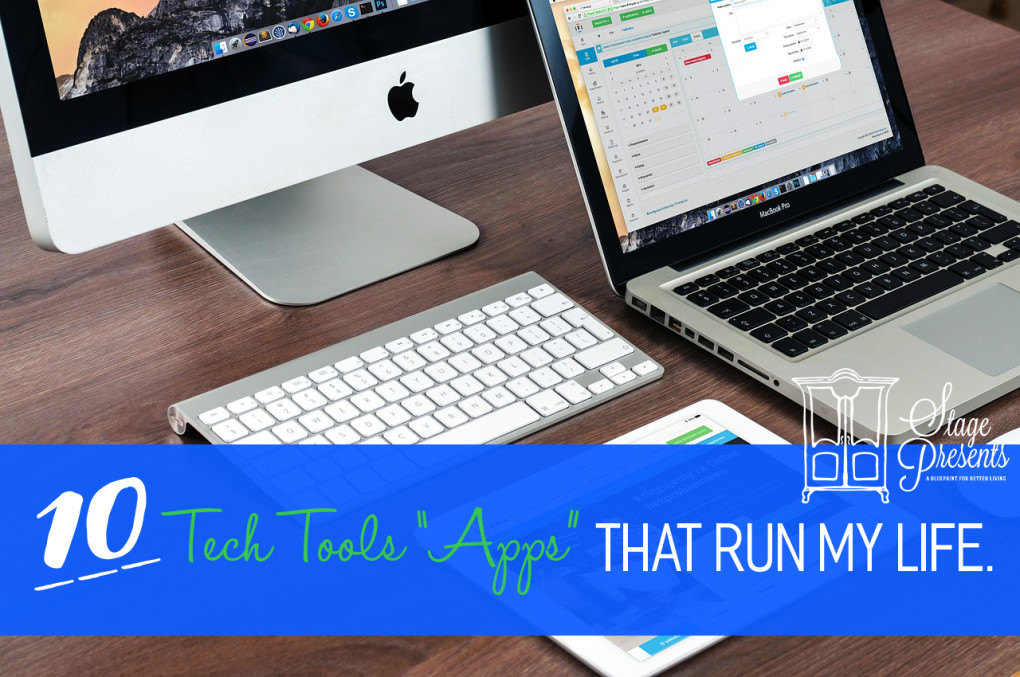 The Right Tools are Essential in Every Area of Life.  Check out my Go To List of Tech Tools that Run My Life.
1.  Google Calendar.  Even though I am still very much a Pen + Paper Girl, I keep my appointments in Google Calendar, as well.  Mostly, because of the Reminder Feature.  I like the option of being able to set (2) reminders for myself.  I also like the option of being able to share my Calendar with my Hubby and share appointments or events with others. When my Sissy was pregnant with the twins, she shared all her appointments with me and it helped to keep me on track.  Plus thanks to Google Calendar, I very RARELY forget a birthday or important event.  If you made it on to my Google Calendar, you have ARRIVED (jk, sorta).
2.  Notes:  The Note App on my iPhone could very well hold the secrets to TAKE OVER THE WORLD.  Or maybe, I just use it because my 38 years are starting to catch up with me.  We all know that my Phone goes every where I go.  So, whenever creative genius strikes, or I get a blog idea, think of something I think I need to remember later.  I will whip it out and type it in.  Not to mention, that I use it to make impromptu grocery lists, or plan out my To Do list, before I leave the house.  It is the ultimate tool to keep me from being a hot scatterbrained mess.
3.  Sell on Etsy App:  I am sure this one is NO SURPRISE.  I love being able to see my orders come in for my Etsy Shop,  no matter where I am.  Also on shipping days, I can just sit in the car outside of the Post Office and send all of my Tracking Confirmations.  It also affords me the luxury of being able to have immediate conversations with customers, see what the traffic is to the site each day, and know what items are popular.  I almost forgot the most important thing the Cha-Ching!!  **Every time you make a sale the App makes the Cha-Ching aka Cash Register Sound.  The high that you get from that sound if enough to make the APP worth it, even if it did nothing else.
4.  Facebook Pages App:  For those of you who don't know, this is where you can Manage your Business FB Page.  I do at least half of my FB Posting & Content Creation from my phone or my iPad.  Even though admittedly I still spend a lot of time in front of the computer, this still keeps me functional when I can't be.  When we add new items to the Shop I can post them directly from Etsy to the Business Page with ease.  I can also respond to Messages and Comments.
5.  Instagram & Pinterest:  I am going to combine these two, because for me their purpose is similar.  I find inspiration there in droves, not to mention that I have met some amazing like minded people, fostered great networking relationships and have been directed to some phenomenal blogs, websites, and local events.
6.  Bank of America App:  I think this one is self explanatory.  I like to keep a close watch on whats going on in our Accounts, especially with Identity Theft being soo rampant.
7.  Threadflip, Groupon & Living Social:  Retail Therapy…Retail Therapy…Retail Therapy (all clickable links)
8.   SIMS Freeplay & Word With Friends:  Stress Relief…  It can't be business all the time, sometimes you need a little play.
9.    TweetCaster:  This is the app that I use to manage my Twitter Page.  There are a million different kinds on Twitter Type Apps.  But, this is my favorite.  Very User Friendly.
10.  Kindle App & Feedly: I'm  a Book Worm.  I LOVE to read, I always have.   If I don't know about something I will try to find out about it.  I am not a fan of paying for books, even though I do. So, I also love all the Free Kindle Books.  I try to post the links to them on our Facebook Page, whenever I can.  So if you are an avid reader as well, follow us on Facebook.  The only thing I enjoy reading as much as books, are good blogs.  There are soo many I couldn't possibly share or read them all.  But, the Feedly app combines them all in one place, and whenever I get some time I indulge.
"ONE OF THE GREATEST AND SIMPLEST TOOLS FOR LEARNING MORE AND GROWING MORE IS DOING MORE." – WASHINGTON IRVING
What are some of the  Tech Tools or Apps that you just couldn't do with out?