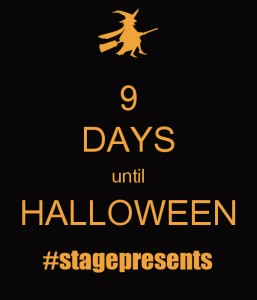 Are you Ready?  It's true, there are really only 9 days left!!
Let's Run Through Our Quick Check List.
If your kids are going Trick or Treating, I hope that you already have their costumes, in hand.  You couldn't pay me, to be in Party City(or any other costume store), this time of year. Honestly, it's like Black Friday for the Goblins.  EEK!!  Have you thought the whole Costume through?  I can't tell you how many years, Halloween morning came and I realized I still needed coordinating shoes, stockings, undershirts, blah blah, blah.  I mean, let's face it, no princess was ever fierce in NIKE's.  Also, make sure to factor in the cold, the rain, and potential runny noses(cold/flu season). NO matter how warm the day starts out, it always seem to be brisk on Halloween night, even in Georgia.
You've Completed your Outdoor Fall Decor and Decided whether or not you want it to be Inviting or Scare the Little Ones Away.
You've got Candy, or if you are "that Mom", raisins and fruit cups. With Food Allergies becoming more and more rampant, consider that when purchasing your treats.  Trust me, No Mommy wants to end their Halloween on the other end of an Epi-Pen.
Which brings me to my next point, it may seem EXTRA, but check your child's candy. Unfortunately, we live in times, where we have no choice but to be VIGILANT!!
Finally, plan ahead.  Go over Safety Rules and Have Fun!!  Take lots of pictures, make lots of memories and Enjoy your Little Ones, believe it a lot these moments can be fleeting.
If you are still considering planning a Halloween Party of Fall Festival Check Out our Custom Invitations over on our Etsy Page!