With Winter on Its Way Out and Spring on its way In, I find myself mesmerized by color.
We have pretty much completed the Family Room.  Meaning, it has everything it needs. But, I would like to add a little bit to it here or there.  I have always been a fan of built-ins, but hubby isn't a fan of big furniture, unless you count the TV.  So, a compromise of sorts for that room, will most likely be bookshelves. I like the idea of being able to style the bookshelves, with pictures, art, as well as books.  Therefore, not having to destroy the walls, should I choose to change it up at some point.  Even more than that, I like the fact that one of the recent trends in book shelf styling encourages adding color to the insides of bookshelves to make the room pop.  This would most likely be something else hubby and I would have to discuss further, but check out these three looks.
1 – This one actually is a "built-in".
2 – This one is more for a kid's room or playroom.  The colors are so festive and Spring like.
3 – This one is probably the closest to what I am looking for.  Especially since, the largest piece of furniture in our Family Room is our Red Leather Sofa.
Another Color that keeps drifting into everything these days is Yellow. According to Benjamin Moore, Yellow or "Breath of Fresh Air", as they are calling it is the Color of 2014.  It's a little pale for my preferences, but, I find myself gravitating towards this Color Scheme.  The yellow here is a little stronger.
It is used here to Decorate this Outdoor Space for an Event.  Here as a DIY that caught my eye, to glitz up your front door. And, in this Gorgeous Nursery Set Up.  And, my favorite of course the Giraffe and Elephant Pillows available for purchase in our Etsy Store.
Spring is Officially Approaching.  Don't forget to set your Clocks Forward tonight!!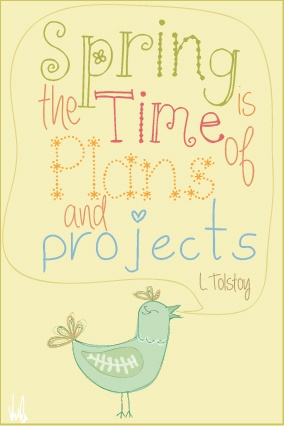 What's on your Agenda for the Change of Season?
Did you read our Last Blog?