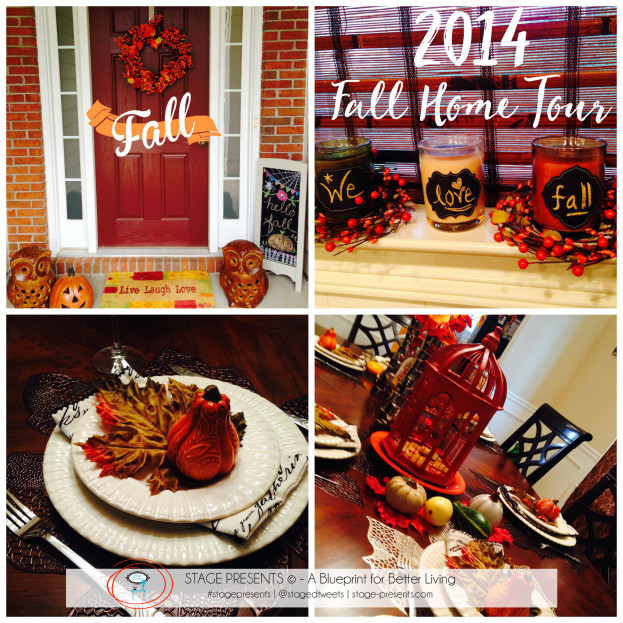 Fall has always been one of my favorite seasons.  After particularly hot summers here in Georgia, when the seasons start to change, I feel the need to bring as much warmth in doors as possible, enter my Fall Décor.
I feel that the Entry to Your Home Sets the Tone for the Entire House.  So, I normally start with my Front Door and Work My way All the Back to the Kitchen.  But, this year, I was literally chomping at the bit, to pull out the Fall Decorations.  So I started indoors, that way the neighbors wouldn't  know how crazy I am , lol.  I had also promised my hubby, I would wait at least until September 1st, to start decorating for Fall, and that is literally how long I waited.
I started with the hardest part, the Fall Tablescape.  To me, that is the make or break it point.  All other décor  gets married to this room.  I was pretty sure that I could use most of the items that I purchased last year, but still create a different look than last years.
Here is a glimpse of last year's décor.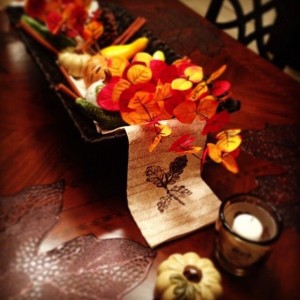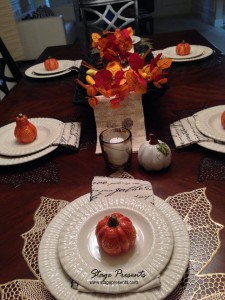 Fast Forward to this Year: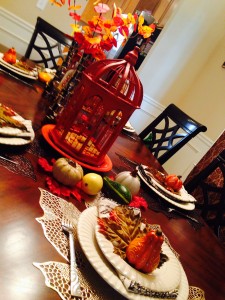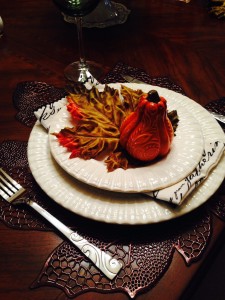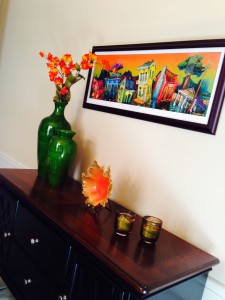 The Burnt Orange Bird Cages were something that my hubby picked up last year, when we were trying to figure out how to style the Side Buffet and the Mantle.  Luckily, they were already the perfect color, the only thing I added to them, were some fall leaves to line the cage.  I had a rather large ceramic pumpkin, and I simply put inside my glass cake plate, and added a few fall leaves and floral accents.  Then I decorated the table with other ceramic pumpkins and gourds.  Next,  I set the table with Fall Leaf place mats I bought last year from Bed Bath & Beyond,  in brown and gold.    I used Pier 1  pear and pumpkin salt and pepper shakers from last year and large fall leaves I purchased from Joann's Fabrics, to make the table settings pop.  And, the scripted napkins were also something that I bought last year.  So I recycled pretty much everything while creating a new and I think a better look than last year.
Next Up, was my Foyer.  It gets a facelift on a constant basis.  I change up the Art Work and Décor based on Season Changes, Birthdays, and Holidays..  After all it's the first thing you see when you come through my front door.
Past Foyer Looks: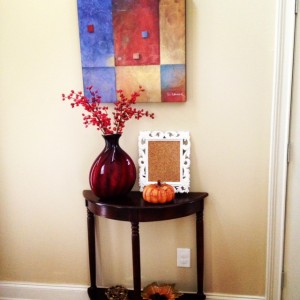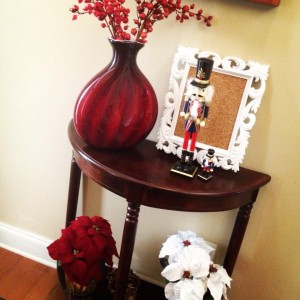 This Year's Look: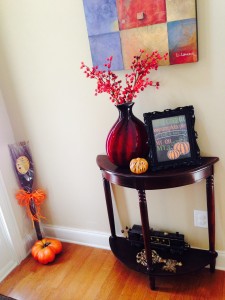 My Formal Dining Room flows directly into My Formal Living Room.  I didn't do much in this room, but change out the centerpiece, just to give the whole space a uniform look.
Then, I carried the decorations over into the Kitchen by adding these Chalkboard Candles to the Window Sill in the Kitchen.
Last Up, was the Front Door Area.  Here are some pics from the last two years.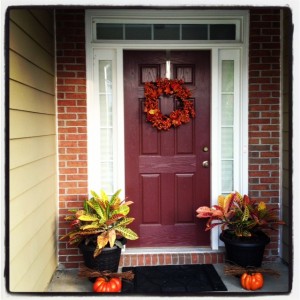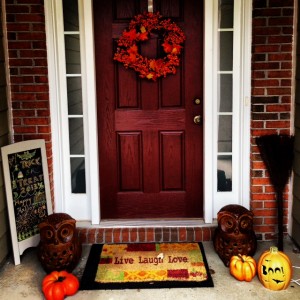 And, finally this year!!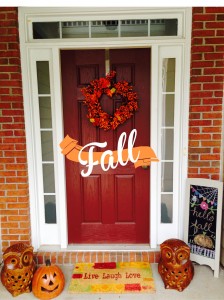 Thanks for joining us on Our Fall Home Tour.  As always it's a joy to decorate my home for my family, and to share it, with you.