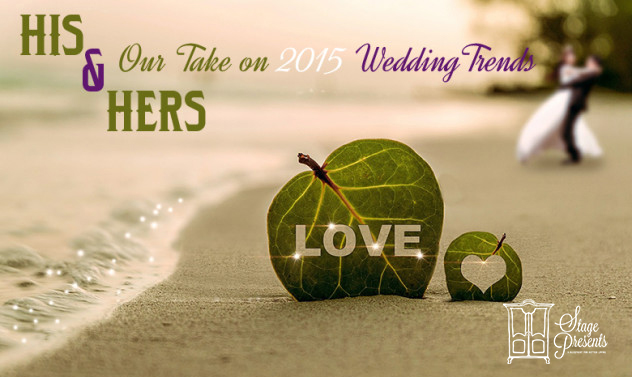 #WEDDINGTRENDS
Since deciding to add Wedding Invitations to Our Etsy Shop, I have found myself immersed in the 2015 Wedding Trends.  Some of them, I could get on board with, and some I could do without.  So just for fun, I enlisted my hubby to get both a male and female perspective on the latest crazes.
Drone or Go Pro Photos –
Hers – You know the Control Freak in Me Would Never Go For That.  You are also talking about the woman who gave her photographer a Definitive List of Must Have Shots.
His – I am a photographer.  NEVER. And besides, drones are too noisy.
Dance Routines –
Her – I would go for it as long as I felt like I had mastered it. I would hate to get out there and fall.  Not to mention how much I was shaking like a leaf that day.
His – No, I don't dance and think they have been overdone. They novelty has worn off. Time for something new.
Rustic Chic –
Her – No, I think it works for some people.  But, Burlap and Lace at a wedding are a bit too casual for me.  Maybe, I would consider it, if the wedding was outside.
His – Yes, I am all for anything that is different. A rustic wedding allows you to use non-traditional materials that are cost effective and in some instances free.
Restaurant Wedding –
Her – Nope
His – Depends on What Kind of Restaurant We are Talking About.
No Dress (Solange Style) –
Her – No, The Dress is Half the Fun.  I can't imagine not going through that process.
His – The Bride Needs Her Dress.
1-2-3 Dress Changes –
Her – It was all I could do to put on one.  I can't imagine having to manage a wardrobe change.
His – Just Seems Extra…
Cocktail Reception –
Her – It would cut the cost of the food, but I would worry about people getting too drunk.
His – NO, too expensive and I wouldn't want to create an Uber tailgating party outside.
Food Trucks –
Her – NOPE.  I am not opposed to them at Carnivals or Fairs but umm… Not at my wedding.
His – YES. Goes hand in hand with a rustic wedding.
Black Tie –
Her – Yes, I would love that.  I love the look of gowns and tuxedos.
His – NO. You want to be the best dressed at your wedding.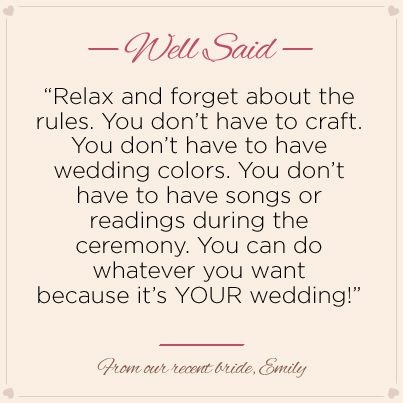 Photo Source: Malindyelene.com on Wedding Planning 101