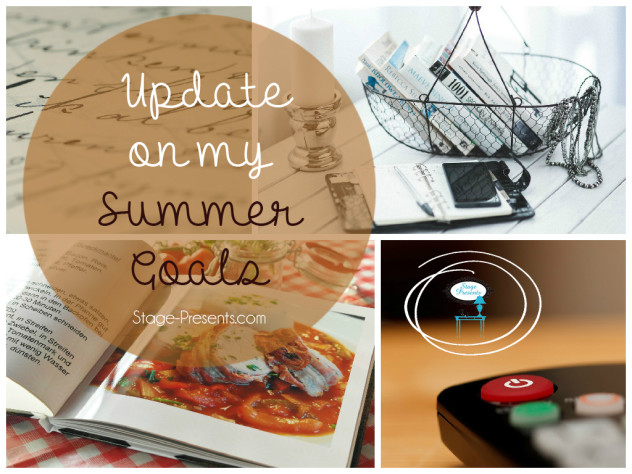 As expected keeping up with my blogging while the kids are at home can prove to be challenging.  But, so far I have managed to maintain.  So, I thought I would drop in to let you know how I am doing with my Summer Goals that I wrote about here.
1.  Reading for Fun.  Well, I actually checked out two physical books from the Library.  It has been forever since I read a physical book.  I figured that the real book would keep me from being distracted by all the buzzing, and beeping going on while reading on the iPad.  That hasn't really gone too well.  I have already had to renew the books once, and I am literally on page 89 of the first book.  Hmmm…. I am honestly struggling with just giving up on that one and moving on to the other book.  Blah!! Once I get through these two I am going o start on this Reading List.  Maybe it will be a little easier.
2.  Handwritten Cards & Letters.  I still have not done this one yet.  But… I did order Personalized Photo Father's Day Cards for the girls to give to Hubby, does that count?  Interested in doing this too, check out the Card Store.
3.  Connect with Family & Friends.  I did good on this one.  One of my oldest friends and her Mom came into town, and I was able to go and hang out with them for a couple of hours, without the kids.  That is major!!
4.  Romantic and Mushy TV – I watched the Fault in Our Stars which I loved.  Still working my way down the list…  Anyone have any suggestions for me?
5.  Trying new Recipes with the Kids – Check Us Out Making Memories in the Kitchen.
6.  DIY Projects – During the winter I bought an old Lazy Suzan, it was wood adjacent, lol, well I thought it was real wood when I bought it.  Once I started sanding it, I realized that wasn't the case.  But, after applying several coats of paint, it almost looks usable.  I plan to put it on my kitchen table, to hold napkins, etc. etc. (Pics to Follows)
7.  In preparation for the Fairs we plan to attend in the Fall, we have been stocking our Etsy Store with Printables.  Right now they are digital, but we plan to offer the Physical Prints when selling in person, and hope to add this to the Etsy Store as well.  I am still hunting for a good printer in the Metro Atlanta Area.

Even though it really feels like it has been a while.  We are really only in the second week of Summer Break.  What are your Summer Goals for this year, consider leaving it in the comment section below?