Stomach Flu had me out for the count last week, so I tried to make up for it, with a Double Edition this week.  Hope you enjoy!!
I was a little thrown off my game this year, with Easter being so far into April. But, at least it gave me more time to make Easter Memorable.  I am really feeling these non-traditional ideas for Decorating Eggs  – Glitter Eggs and these Chalkboard Eggs.  Haven't decided which one I like more, or if these Qualify as a Mommy Project or a Mommy and the Girls Project.  After all they have their PAAS Egg Decorating Sets, lol.
The change of Season is inspiring Color Everywhere.  Elle Decor recently shared their Spring 2014 Color Trends, along with their ideas of how to Design and Decorate using these hues.   My favorite colors from their list were PANTONE 16-3823 Violet Tulip and PANTONE 18-3949 Dazzing Blue.  In fact, I am trying to incorporate the Blue into my Easter Tablescape.  I will let you know how that turns out.  It doesn't seem to be an easy color to find and or match with my existing dinnerware.
With my birthday approaching, I have been bouncing around ideas of getting together with my girlfriends.  Trying to figure out if I wanted to do a full blown dinner party, go out to eat, or do some type of wine/cheese tasting party. That is when I ran across this, and had to chuckle.  Have you ever had these kind of days?
I know I shared the link, but I had to share the pic in this actual post(priceless).

This past year my nine year old had a LOT of Dental Work done.  She had adult teeth that came in behind the baby teeth and it took a lot to get everything where it should be.  Super Painful too, so this year, I am shying away from anything that could put my baby back in that dentist chair, other than a cleaning.  I am looking for NON CANDY Easter Basket Options.  I guess I am not the only one, I found a lot of great ideas here and here.
Lastly, someone mentioned to me this week that a lot of people want to use Pillows to decorate, but are unsure about Pillow Placement.  So here is some "Pillow Porn" for you. Hope that didn't offend anyone…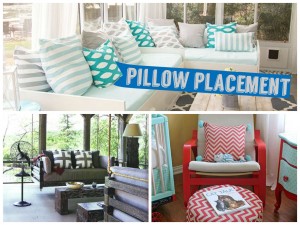 Did this help you think of a place you could put a Throw Pillow?  Head on over to our Etsy Store for some options!!
Next week, I will be sharing some Great Easter Crafts… Until then, AS YOU WERE!!